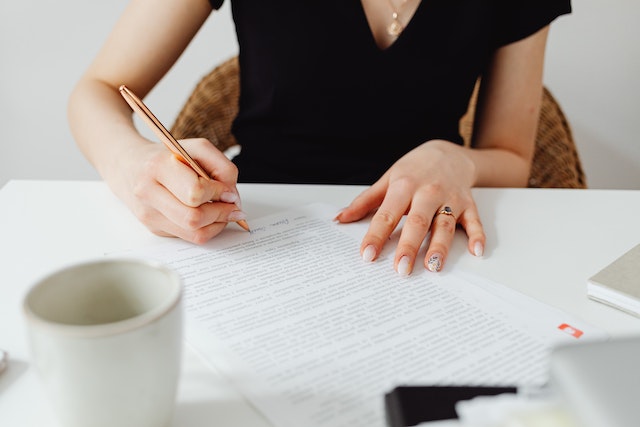 Writing a will is an important part of making sure that your estate is handled according to your wishes. But why is it so important, and what are the top six reasons for making a will?
Firstly, creating a will can help simplify the process of dealing with your estate after your death. Without a will, the process of managing your estate and disbursing your assets can become quite complicated and could take a long time. A will allows you to specify exactly how you wish your estate to be handled and who should receive which assets.
Secondly, setting up a will safeguards the future of your family and loved ones. Without a will, the court will decide how your assets should be shared, and this may not be in accord with your wishes. A will ensures that your assets are distributed in the way that you have decided, and that your loved ones are provided for.
Thirdly, it is important to create a will so that you can appoint an executor. An executor helps to ensure that your wishes are carried out and that the taxes, debts and other costs associated with your estate are taken care of. Executors should be people you trust and can be a friend or relative.
Fourth, writing a will can help avoid misunderstandings and future arguments about the distribution of your estate. By making it clear how your assets should be divided and to whom, a will can help avoid tension among family and friends and ensure that your final wishes are respected.
Fifth, it is possible to use a will to provide for people other than your nearest and dearest, such as charitable organizations and other causes that you support. You can use a will to leave money or other assets to good causes and make sure that your estate continues to benefit society in some way.
Finally, having a will helps your family members come to terms with your death and make sure that the funds you leave behind are used in an appropriate manner. By leaving behind a clear plan of how you would like your estate to be handled, you can help ensure that your last wishes are respected.
In conclusion, it is clear that making a will is an important part of completing your estate planning. Although it can be a difficult process, the top six reasons for creating a will are that it simplifies the process of dealing with your estate after your death, safeguards your family and loved ones, helps appoint an executor, avoids future arguments, allows you to provide for others and helps your family come to terms with your death.

When it arrives to making certain the security of your liked kinds and safeguarding your assets, composing a will is a single of the most essential steps you can take. By crafting a will, you are taking proactive actions to be certain that your needs are honored and your legacy is shielded. Right here are the  best 6 motives to publish a will:
Defining Your Remaining Needs
A will is a impressive resource that enables you to express your last wishes, which includes the distribution of your assets, the care of your dependents and the potential of your company. By writing a will, you are providing you peace of intellect, recognizing that your tough-gained property will go to the individuals and leads to you care about, in the manner you decide on. A probate lawyer can aid you publish a will that is legal and executable.
Making sure Your Children's Futures
A will is a vital document that allows you to make preparations for the care of your kids if you really should move away. This can include naming a guardian, specifying guidance and outlining academic options. Producing a will provides you the assurance that your children's futures will be safe, even if you are no lengthier there to guidebook them.
Be positive to totally examine your prepare with any persons associated so they are not stunned need to that day arrive in the upcoming. This dialogue can be hard to navigate, requiring assistance from trustworthy close friends, household members and specialists.
Preventing Probate Court
Probate courtroom can be a time-consuming and high-priced approach. If you create a will, you can keep away from probate courtroom proceedings and guarantee that your property are distributed according to your wishes with minimum interference from the courtroom. This saves time, funds and a excellent offer of pressure for your loved types.
Facilitating Estate Scheduling
A will is a essential component of any in depth estate approach. By together with it as component of your strategy, you can ensure that your property are managed efficiently and your estate taxes are minimized. Making use of a trust as part of your will can decrease taxes paid on real estate, revenue and other property named in the will. This makes it possible for you to leave a most legacy to your cherished types while minimizing the burden on your estate.
Giving Clarity and Route
In the absence of a will, family members associates and cherished ones are frequently left to type out your affairs with no distinct path or guidance. When you produce a will it provides clarity and direction, making it much easier for them to navigate the difficulties that occur with your passing.
Continue to keep in thoughts that a will is not strictly used for distributing belongings or supplying care for dependents it can be utilized to relay last statements or explanations to loved types about anything at all at all. Employing a will can help resolve any disputes that may perhaps come up or have been unfolding for yrs, and prevent or resolve relatives disagreements.
Expressing Your Philanthropic Intentions
Composing a will gives you the prospect to guidance the brings about that you care about and to depart a lasting legacy of supplying. Look at the issues and methods that you care about and go away some of your belongings to organizations that guidance them. By which includes charitable gifts and bequests in your will, you can make a favourable effects on the environment prolonged following you have handed into the following realm.
Crafting a will is an act of enjoy and accountability, a single that offers peace of mind, safety and the assurance that your closing wishes will be honored. Regardless of whether you are just commencing out in lifetime or are in the later on years of your journey, penning a will is a undertaking that should really not be delayed. With its quite a few positive aspects, crafting a will is an investment in your potential and the long term of all those you love.