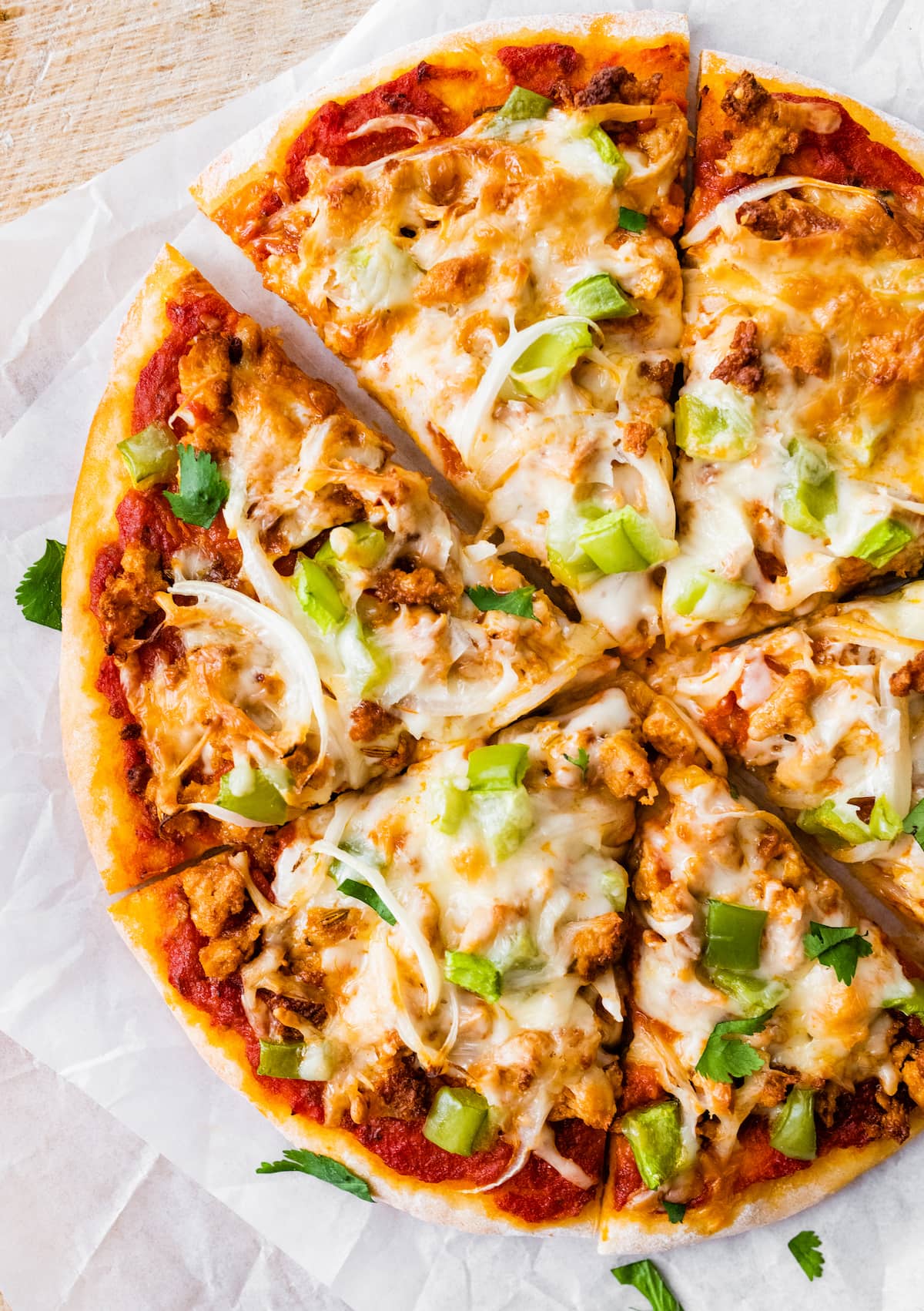 Eating Bird Food has taken the health food market by storm with their revolutionary new product – Protein Pizza. Packed with 30 grams of protein per serving, this pizza is the perfect snack for health-conscious individuals looking for an indulgent, guilt-free treat.
Intended to be both nutritious and delicious, the pizza is made of whole wheat crust and is topped with all-natural ingredients. This ensures that consumers are only consuming the highest quality product, without any chemicals or additives. The pizza also has a generous layer of cheese and a variety of protein-packed toppings. Eating Bird Food's protein pizza also has a reduced calorie count compared to other pizzas due to its no-sugar-added tomato sauce and a light sprinkling of cheese.
Not only is the protein pizza a healthier alternative, it is also extremely convenient. The pizza is already cooked and pre-portioned, so all a health-conscious individual needs to do is take it out of the box, heat it up for a couple of minutes and it's ready to eat. It's the perfect solution for those who are looking for a quick and healthy snack that doesn't require a lot of time or effort.
Eating Bird Food's introduction of the protein pizza is an excellent step towards providing healthier options for those who are looking for convenient snacks. With its impressive protein count, all-natural ingredients, reduced calories and convenient packaging, it's no wonder that Eating Bird Food's new protein pizza is becoming a popular choice among the health-conscious community.

This protein pizza has 30 grams of protein per serving. The dough comes together in about 10 minutes and is made with just 2 simple ingredients. No yeast needed!
Have a pizza craving, but want something that's protein-packed and will keep you full and satisfied for hours? Look no further than this protein pizza recipe!
This dough is made with just 2 simple ingredients and there's no yeast or waiting for the dough to rise. And thanks to the protein-rich Greek yogurt in the dough and the ground chicken sausage as a topping this pizza is loaded with a whopping 30 grams of protein per serving!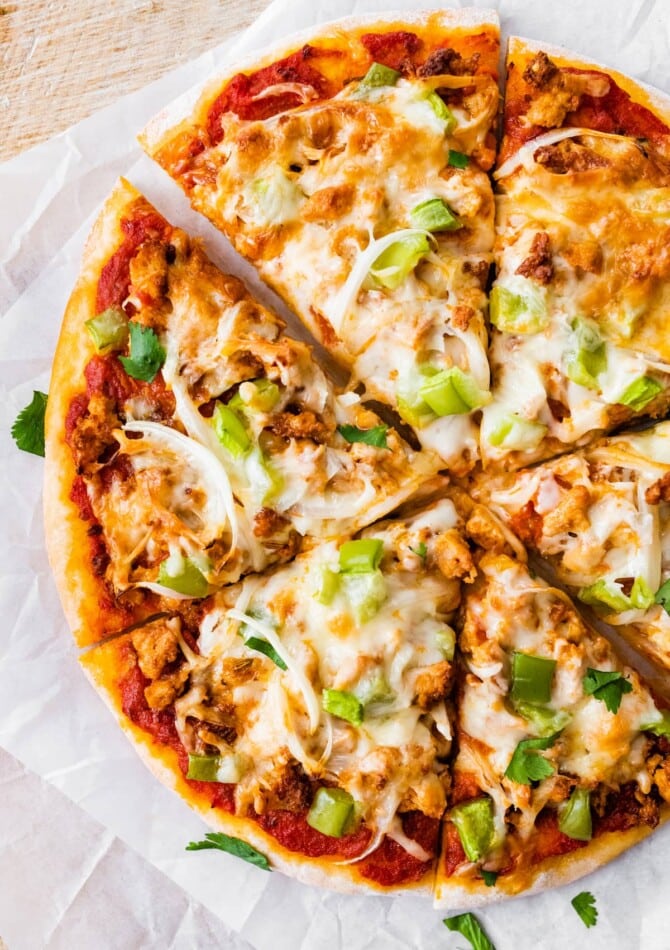 Why You'll Love This Recipe
It's high protein! One slice has about 15 grams of protein.
The pizza dough is made with just 2 simple ingredients!
No yeast and no waiting for the dough to rise!
It's ready to eat in about 30 minutes, making it the perfect dinner for busy weeknights.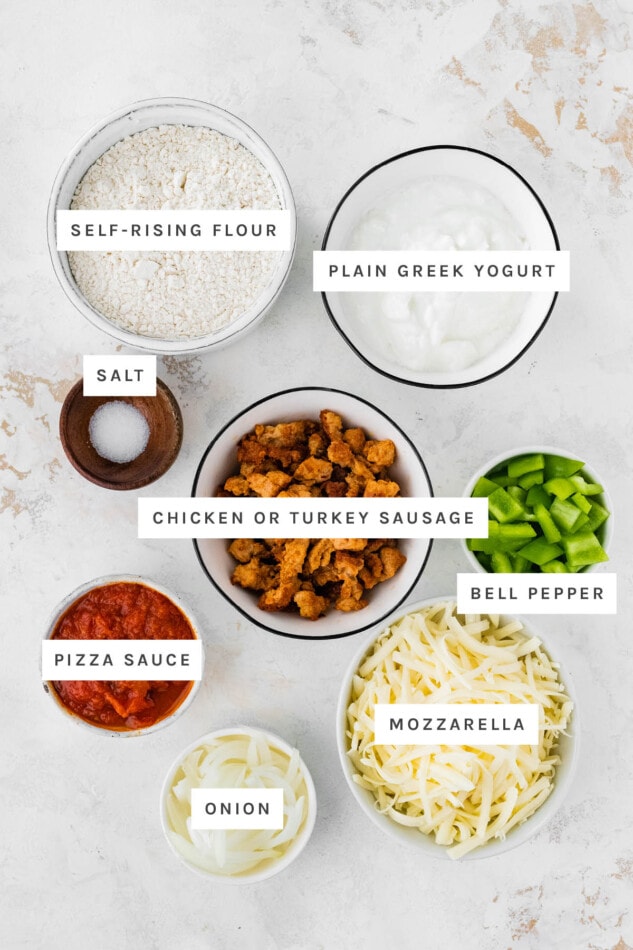 Ingredients Needed
self-rising flour – a convenient type of flour that already has the leavening agent and salt mixed in. I like the King Arthur self-rising flour, but any brand will work. If you don't have or can't find self-rising flour you can make your own by combining 1 cup of all-purpose flour with 1 1/2 teaspoons of baking powder and 1/4 teaspoon of salt.
greek yogurt – this will not only add protein to your pizza crust but also moisture to help form the pizza dough. I prefer full-fat Greek yogurt, but low-fat and fat-free Greek yogurt will also work.
salt – just a pinch for the dough!
pizza sauce – I kept it traditional with a basic pizza sauce. Use your favorite store-bought brand or make your own pizza sauce at home. If you use store-bought pizza sauce, grab one without any added sugar. Some of my favorites are Rao's tomato basil sauce and Primal Kitchen's tomato basil marinara sauce.
ground chicken or turkey sausage – a lean protein option that adds plenty of flavor and protein to this pizza!
yellow onion and bell pepper – I love adding veggies as a topping to my pizza! I added the onion and bell pepper to the pizza raw, but feel free to sauté the veggies for added flavor.
shredded mozzarella – a pizza isn't really a pizza without the cheese, am I right? My go-to is shredded mozzarella because it's milk and pairs so well with the rest of the ingredients.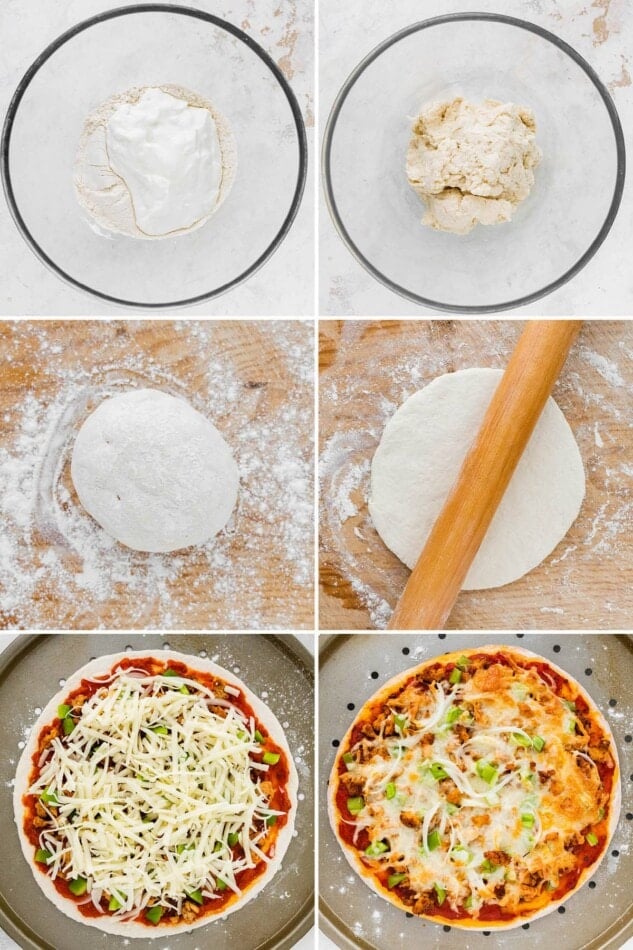 How to Make
Make dough: If you don't have self-rising flour, make your own by combining flour with baking powder and salt in a large bowl. Add greek yogurt and additional salt to flour and stir to combine until a dough starts to form. If the dough is too thick, add more yogurt, 1 Tablespoon at a time. If the dough is too thin, add a sprinkle of more flour.
Shape dough: Use your hands to shape the dough into a smooth ball until all the dry flour is gone. This should take about 2-3 minutes.
Roll dough: Cover the dough ball completely in flour (this will prevent it from sticking to the counter or roller). Transfer the dough ball to a floured surface. Roll out the dough into a circle or rectangle shape using a rolling pin or smooth bottle, until about ¼ inch thick.
Add toppings: Using your hands or a spatula, carefully transfer the dough to a lightly floured baking dish or pizza stone. Add sauce and spread over dough evenly, leaving at least ¼ inch space around the edges. Sprinkle on cooked ground chicken or turkey sausage, onion and red bell pepper evenly over pizza crust. Top with mozzarella cheese.
Bake: Bake pizza for about 20 minutes at 400°F until cheese is browned and bubbly and crust is golden brown, rotating pan once halfway through. Remove from the oven, let cool for a few minutes and enjoy!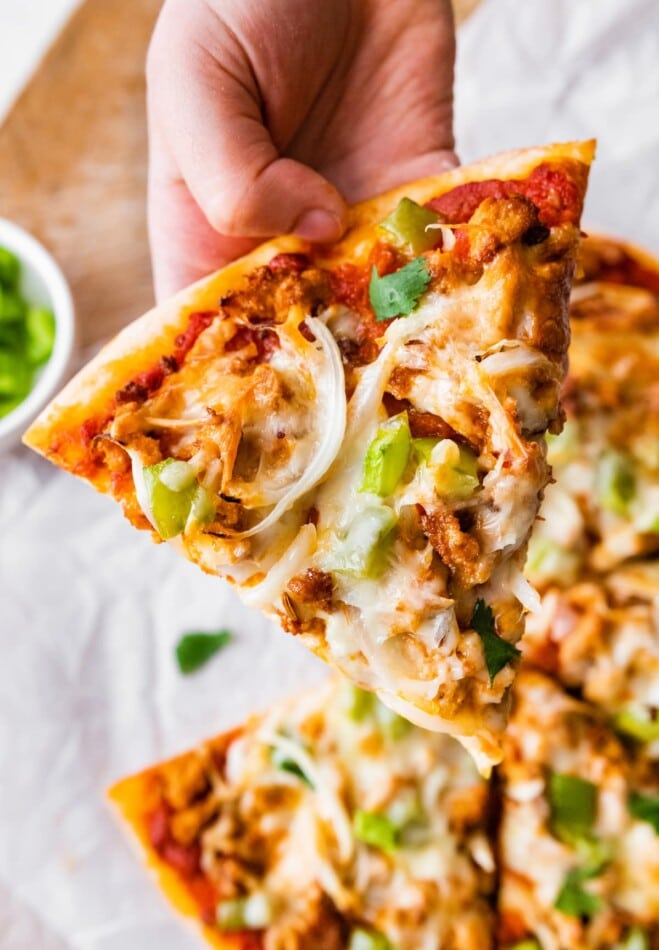 Topping Ideas
The toppings mentioned above all taste amazing together, but everybody has their own preference as to what they like, so feel free to customize this pizza to your liking! Here are a few topping ideas that you might like:
Protein – feel free to swap out the ground chicken or turkey or add extra protein with the addition of pepperoni, ground sausage, bacon, turkey bacon, meatballs or shrimp.
Veggies – swap out the veggies with whatever you have on hand! Zucchini, mushrooms, tomatoes, roasted garlic or spinach would all be delicious additions! I would just avoid adding too many veggies as it will weigh the crust down and release more liquid, which might cause the crust to be soft and soggy.
Spices and herbs – crushed red pepper flakes, fresh basil, dried basil, thyme or oregano, onion powder, garlic powder, etc.
Sauce – any tomato sauce works, but pesto or a cream sauce would also be delicious!
Cheese – I wouldn't necessarily recommend swapping the mozzarella for the cheese, but you could always add more cheese to this pizza like provolone, parmesan, goat cheese, cottage cheese or ricotta cheese.
Plant-based – want to make this pizza plant-based? Swap the ground meat with tempeh bacon, vegan sausage, tofu or meatless crumbles.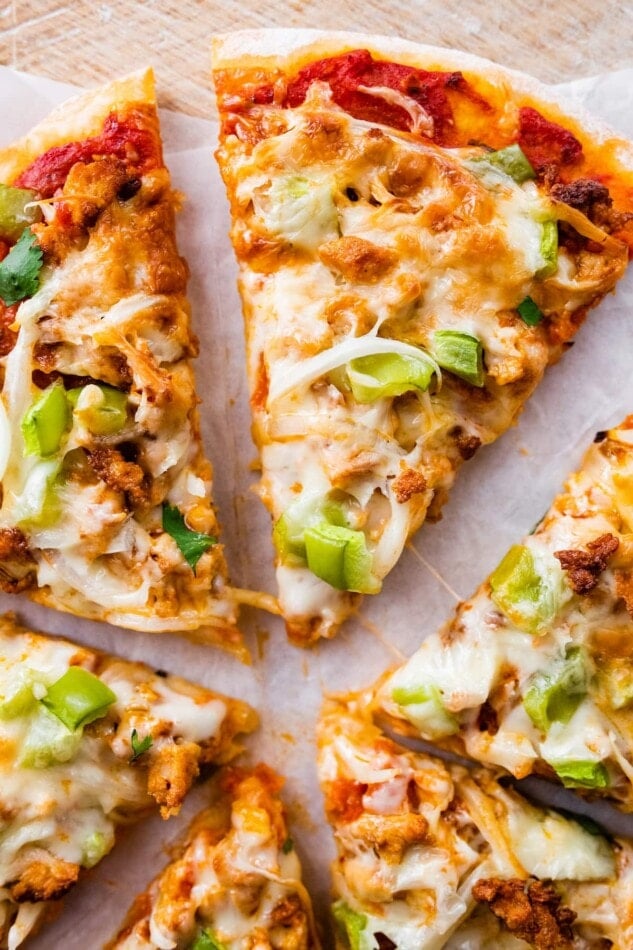 How to Store Leftovers
This pizza is best served fresh, but if you have leftovers or want to make this in advance as part of your meal prep here's how I would store it:
In the fridge: Leftovers should last 2-3 days stored in the fridge in an airtight container.
In the freezer: I haven't tried freezing this crust, but I would imagine it would freeze just fine. I would recommend freezing it after cooking without the toppings. After baking, let it cool completely and cover tightly in plastic wrap or store in a freezer-safe container for up to 3 months. When you're ready to enjoy, let it thaw at room temperature for a few hours or in the fridge overnight, add toppings and bake as directed.
Reheating: Reheat leftovers in the toaster oven, regular oven or air fryer until warm throughout and the edges are crispy. I don't recommend reheating in the microwave as the crust might get soggy.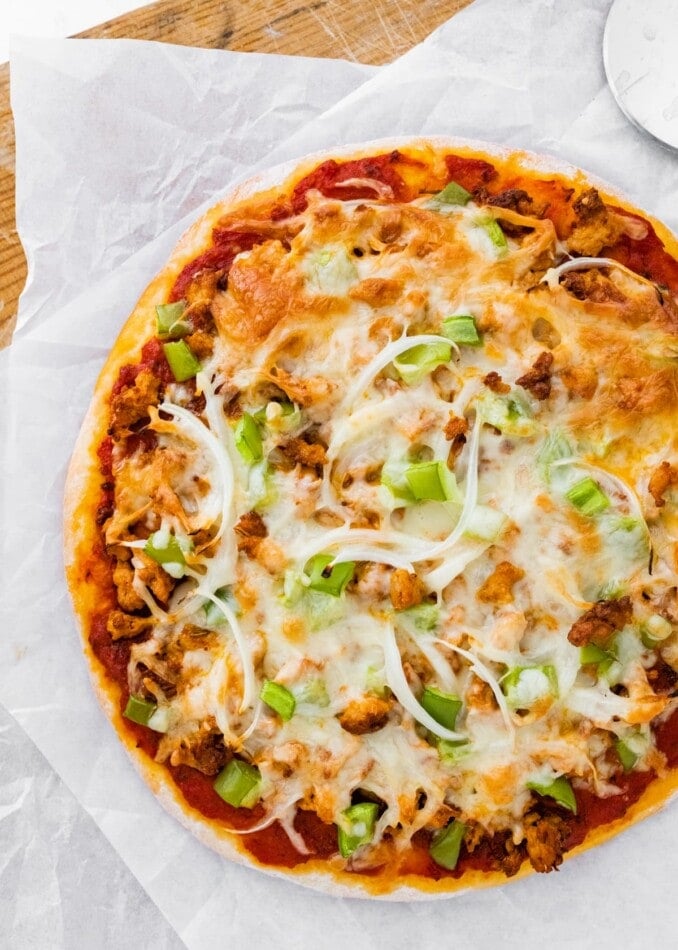 More Healthy Pizza Recipes to Try
Be sure to check out all of the lunch and dinner recipes as well as all the protein recipes on EBF!
Protein Pizza
This protein pizza has 30 grams of protein per serving. The dough comes together in about 10 minutes and is made with just 2 simple ingredients. No yeast needed!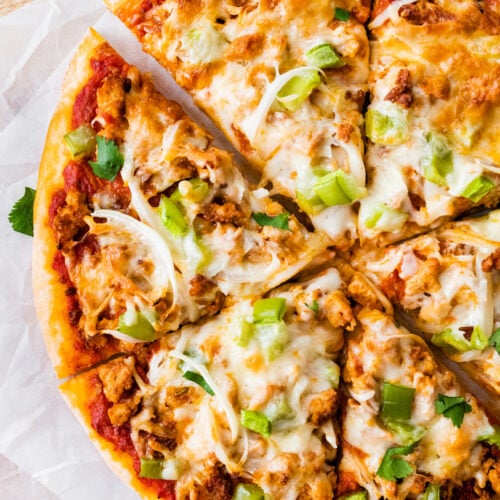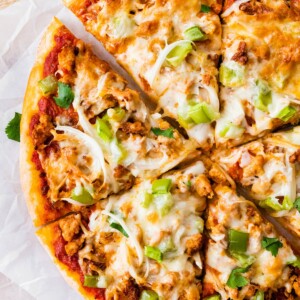 Dough
1

cup

self rising flour OR

,

1 cup all purpose flour + 1.5 tsp baking powder + ¼ tsp salt

¾

cup

plain full-fat or low-fat Greek yogurt

,

plus 1-2 Tablespoons if needed

¼

teaspoon

salt
Toppings
⅓

cup

pizza sauce

¾

cup

ground chicken or turkey sausage

,

cooked

⅓

cup

yellow onion

⅓

cup

bell pepper

1

cup

shredded mozzarella

,

loosely packed
Serving: 2slices Calories: 396kcal Carbohydrates: 35g Protein: 30g Fat: 15g Saturated Fat: 7g Cholesterol: 71mg Sodium: 917mg Potassium: 251mg Fiber: 2g Sugar: 4g
DID YOU MAKE THIS RECIPE?
Please leave a comment and star rating on this post and share on social media using the hashtag #eatingbirdfood. I love seeing your recipe shares!
This post may include affiliate links. Thank you for your support.