A healthy diet is always desirable for a nutritious lifestyle. To make it easier for everyone, smart alternatives are available. No Bake High Fiber Bars are an easy and delicious way to add more fiber to your diet without any fuss or elaborate cooking.
These bars are convenient and have a variety of flavors that make them truly irresistible. Enjoy the sweet-tart flavor of cranberry-peanut bars or the more traditional chocolate peanut combination. Each bar is a powerhouse of nutrition with a mix of oats, nuts, dried fruits, and seeds. There is no sugar added, making them even healthier.
The great thing about these bars is that they are high in both soluble and insoluble fiber with up to 8 grams per serving. Soluble fiber helps lower bad cholesterol levels and insoluble fiber eases digestive function while promoting regularity. The high amount of fiber in these bars can help lower risk of heart disease and type 2 diabetes.
These bars also contain other essential nutrients such as vitamins, minerals, and antioxidants. The addition of flaxseed not only adds to the nutrition but also makes the bars even more delicious. By using whole wheat flour as the binder and natural sweeteners such as honey or agave, these are much healthier than other snacks that contain refined sugar.
No Bake High Fiber Bars are a great way to add nutritious fiber and other essential nutrients to your diet without compromising on taste. Try them and see for yourself! [ad_1]

These healthy no bake high fiber bars are easy to make with only 6 simple ingredients like Smart Bran cereal, flaxseed and SunButter. They're crunchy, perfect for meal prep and kid-friendly!
I love my granola bars, but sometimes I want a snack bar that's a little more filling and without protein powder. Cue these no bake high fiber bars!
I specifically developed these bars with ingredients that are higher in fiber like Smart Bran cereal, flaxseed, dried cranberries and SunButter. These foods not only help with digestion, but they help to keep you full longer (yay for no more mindless snacking). Added bonus: these bars are made with seed butter so they're school-safe and kid-friendly so if you have a kiddo that needs a little fiber boost these are the bars!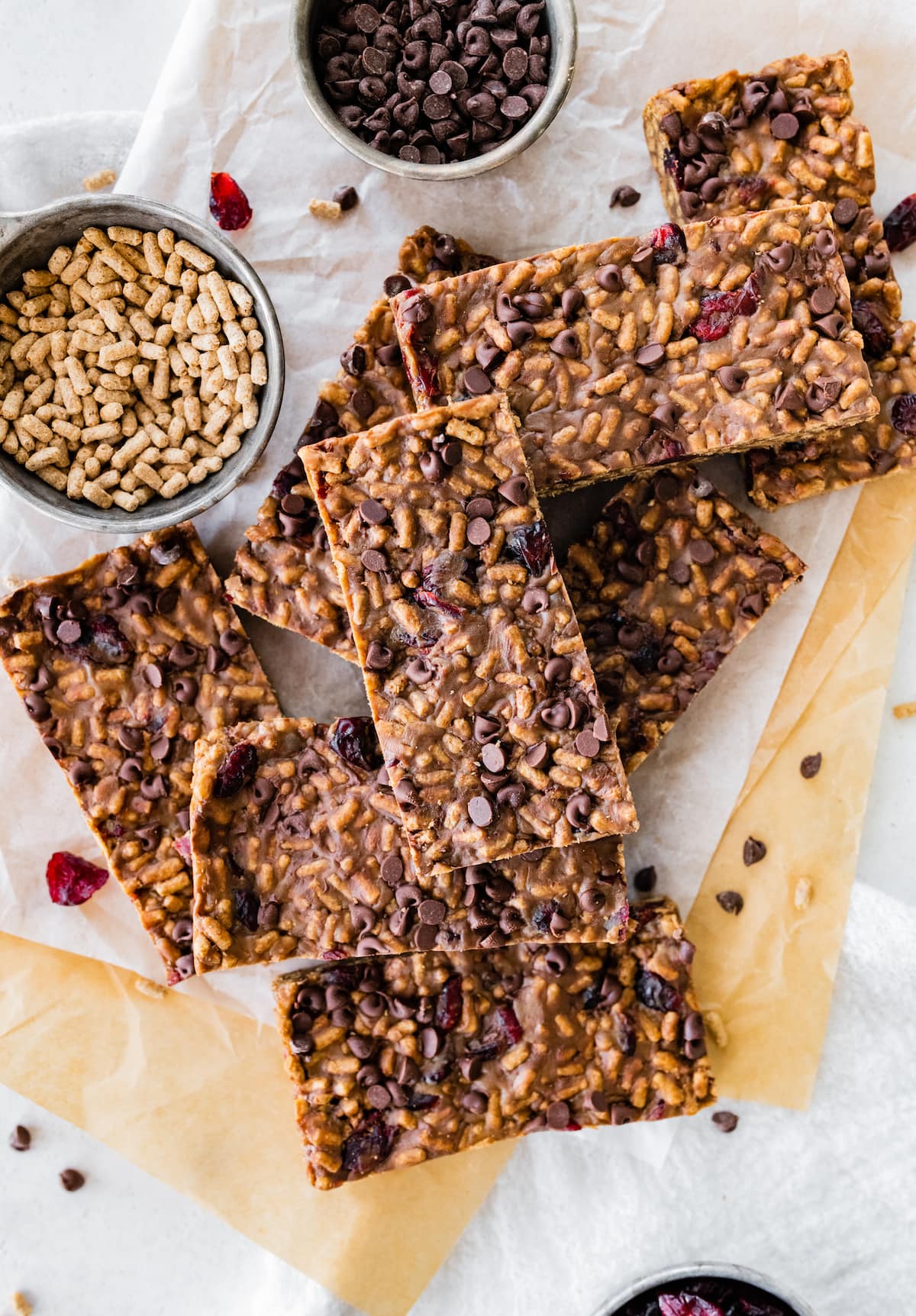 Why You'll Love This Recipe
These bars are made with only 6 simple ingredients!
Super easy to make and there's no baking required! Just mix, press and chill.
Made with sunflower seed butter, so are school-safe!

One bar has 6 grams of fiber and 6 grams of protein!

Dairy-free, nut-free + can easily be made vegan.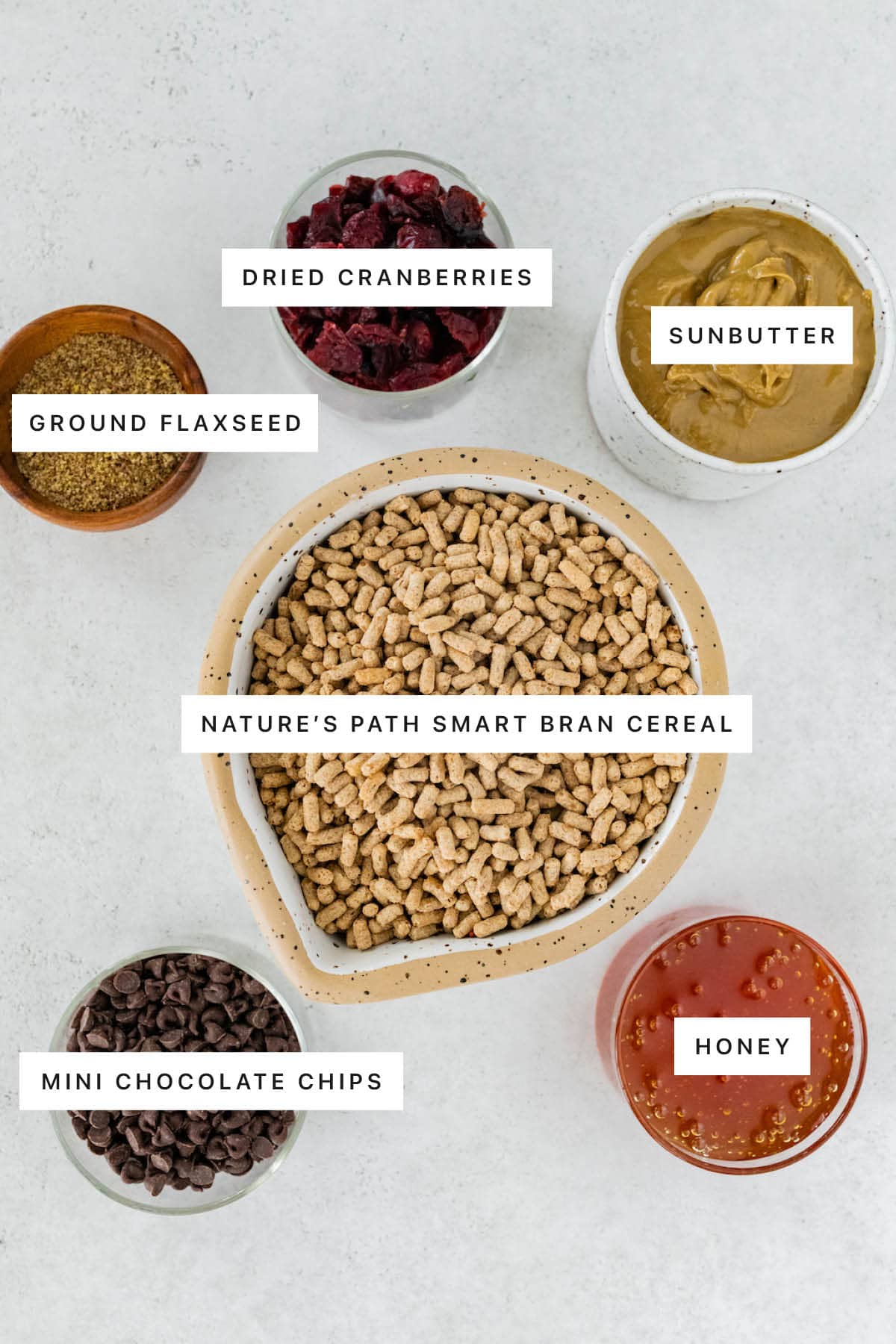 Ingredients Needed
Nature's Path Smart Bran cereal – this is the main source of fiber in the recipe and will add a crunchy texture to the bars.
ground flaxseed – a rich source of omega-3 fatty acids and dietary fiber.
dried cranberries – a good source of fiber and adds the perfect blend of sweet and tart while also adding a pop of color. I prefer to use dried cranberries that are fruit-sweetened instead of ones that are sweetened with cane sugar. My favorite brand is the Made in Nature dried cranberries.
mini chocolate chips – I recommend Enjoy Life mini chocolate chips which are allergen-friendly or Lily's chocolate chips because they are low in sugar and calories.
sunflower seed butter – a great source of protein and healthy fats while also helping to bind the bars together. I like using the natural SunButter or you can easily make homemade sunflower seed butter.
honey – a perfect natural sweetener and part of the "glue" that holds these bars together. I love the pairing of SunButter and honey.
How to Make
Line an 8×8 square baking pan with parchment paper. In a large mixing bowl stir together the smart bran cereal, flaxseed, dried cranberries and 2 Tablespoons of mini chocolate chips.
In a small saucepan, heat SunButter and honey over low-medium heat, stirring frequently until the mixture is completely smooth. Remove from heat and pour SunButter mixture over dry ingredients and mix until evenly coated.
Pour coated cereal mixture into the prepared baking dish and press down evenly. Sprinkle the remaining mini chocolate chips on top and press them into the bars. Place bars in the fridge for about an hour to set up. Remove from fridge, cut into bars and enjoy!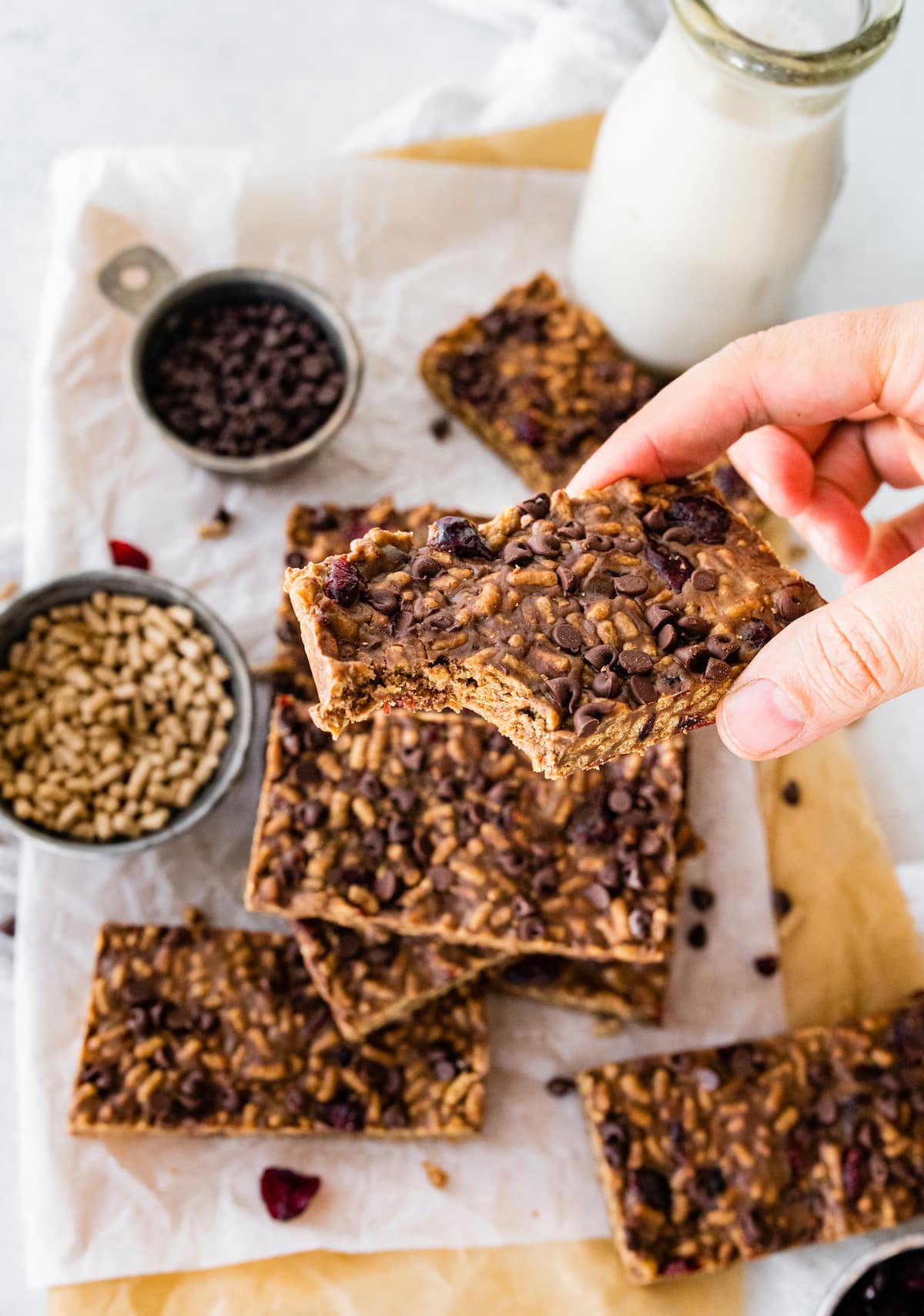 Substitutions & Notes
Mix-ins: Feel free to customize this recipe with different mix-ins. You can easily swap the chocolate chips and/or dried cranberries for something else like another dried fruit, nuts or seeds. Some ideas: dried cherries, raisins, coconut flakes, pecans, almonds, walnuts, cashews, pistachios, pumpkin seeds or sunflower seeds.
SunButter: I went with sunflower seed butter to keep this recipe school-safe for kiddos, but you can easily swap it for another seed or nut butter. Some ideas: almond butter, peanut butter, cashew butter or tahini.
Vegan: I haven't tried it, but I bet using maple syrup or agave would work as a substitute if you want these bars to be vegan.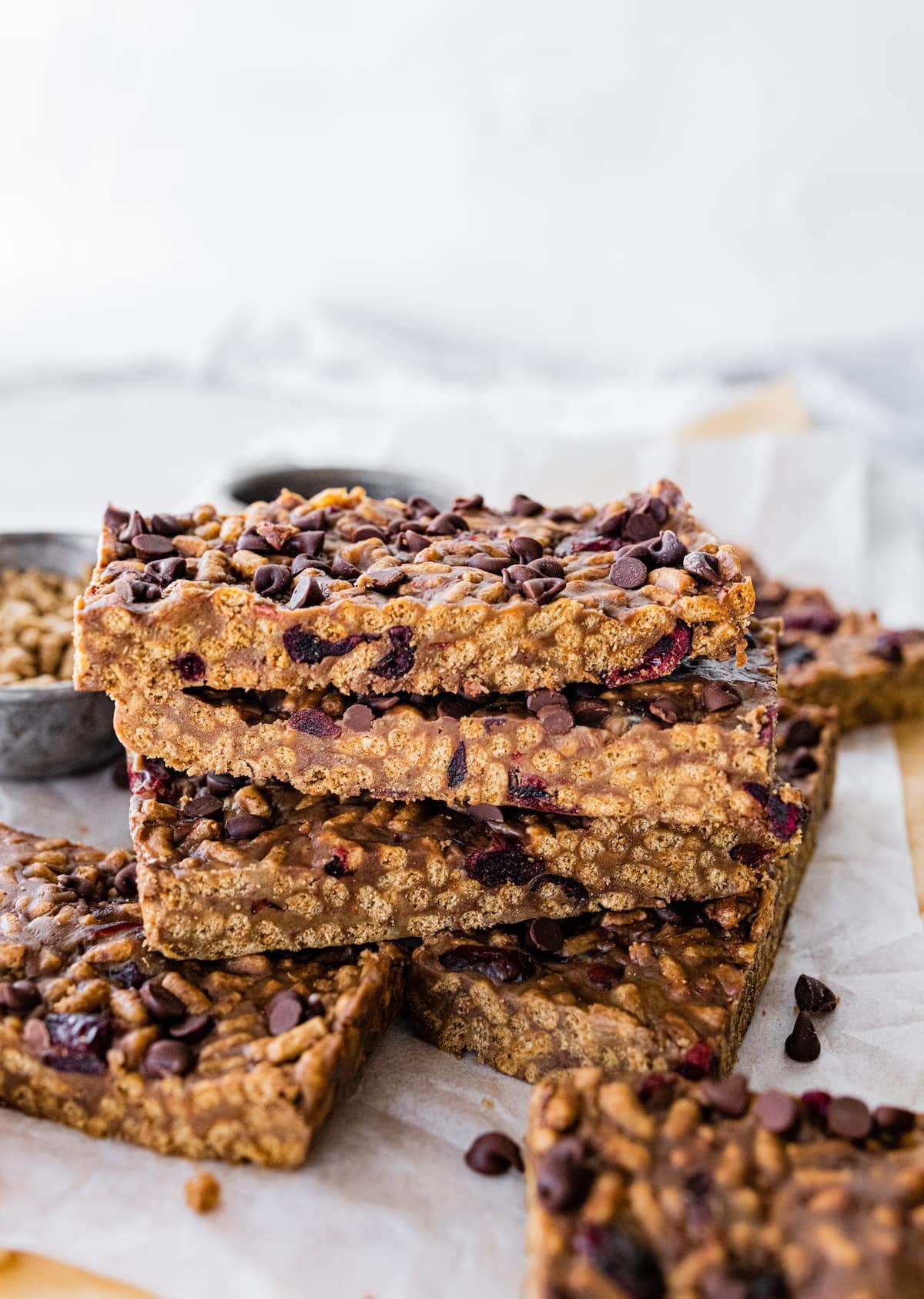 How to Store
One of the best things about these high fiber bars is that they store really well and are perfect for meal prep!
After you cut your bars store them in an airtight container in the fridge for up to 1 week. I like using glass storage containers or Stasher bags for storing. For longer storage, you can store them in the freezer for up to 3 months. I like to store them after being cut so they're ready to grab and go! If you do freeze them, just thaw them in the fridge or at room temperature before enjoying them.
More Bar Recipes to Try
Be sure to check out my full collection of snack recipes here on EBF!
No Bake High Fiber Bars
These healthy no bake high fiber bars are easy to make with only 6 simple ingredients like Smart Bran cereal, flaxseed and SunButter. They're crunchy, perfect for meal prep and kid-friendly!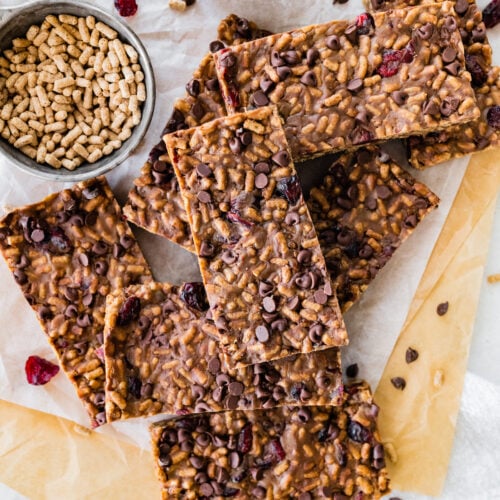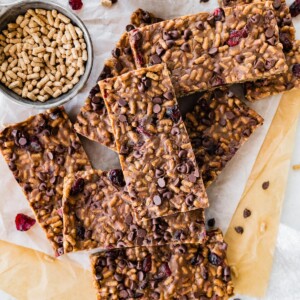 1 ½

cups

Nature's Path Smart Bran cereal

1

Tablespoon

ground flaxseed

¼

cup

dried cranberries

¼

cup

mini chocolate chips,

½ mixed in, the other ½ pressed on top

½

cup

natural SunButter

¼

cup

honey
Serving: 1 bar Calories: 227kcal Carbohydrates: 28g Protein: 6g Fat: 13g Saturated Fat: 3g Sodium: 59mg Fiber: 6g Sugar: 17g
DID YOU MAKE THIS RECIPE?
Please leave a comment and star rating on this post and share on social media using the hashtag #eatingbirdfood. I love seeing your recipe shares!
This post may include affiliate links. Thank you for your support.


[ad_2]

Source link