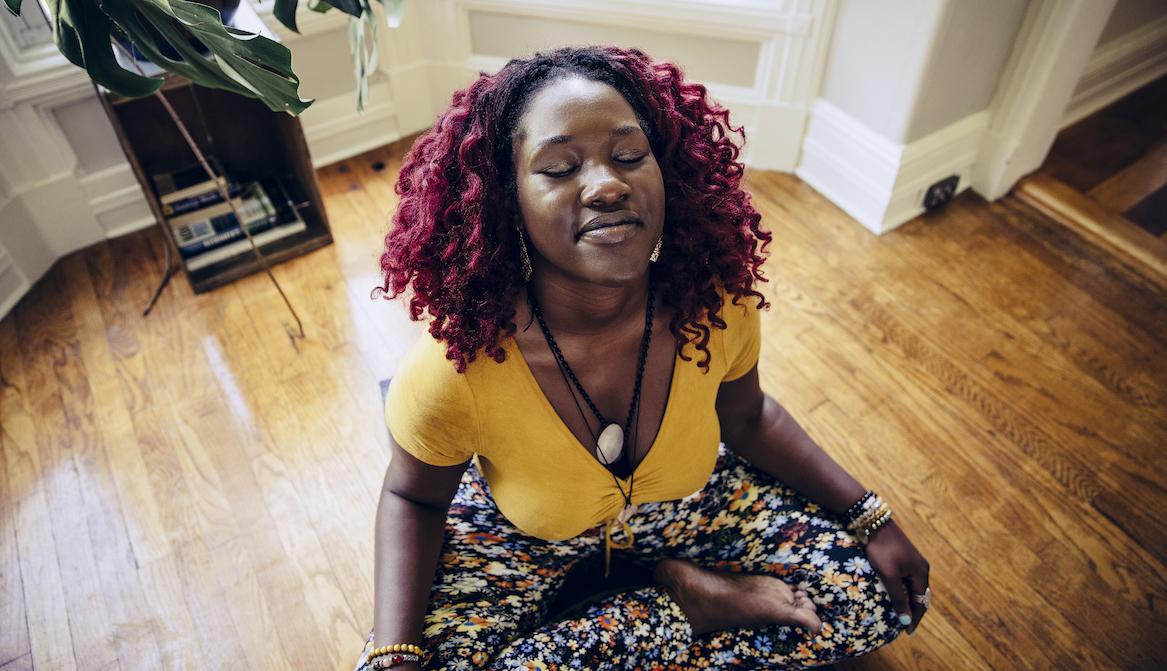 Timeline Jumping Meditation is a powerful practice for accessing your higher self and discovering meaningful insight into the past, present, and future. It is an effective tool for connecting to the universal energy and getting answers to questions about one's life. This meditation technique can help an individual align their energy with their desired outcomes, release emotional pain and suffering, and manifest dreams.
The first step in performing Timeline Jumping Meditation is to prepare your body and your environment. Find a comfortable place to sit and close your eyes. Release any stress and tension from your body by allowing yourself to relax into the experience. Take a few deep breaths in and out, allowing your body to become still and quiet.
Once your body and environment are prepared, begin to shift your focus inward. Close your eyes and visualize yourself in a large, open space. Move your awareness to the top of your body, and use your breath to help quiet your mind. Allow yourself to drift off into a space of relaxation and stillness.
Once you are settled into a relaxed state, you are ready to begin. Begin by visualizing yourself standing in the center of the room. You are surrounded by a bright white light, and you feel connected to the universal energy.
From this place of openness and connection, you can extend your focus into the space around you. Visualize the timeline stretched out before you, a long tunnel filled with different events and moments from the past, present, and future.
Focus your attention on the timeline, and on the events that you wish to gain insight or understanding from. As you focus your attention on a specific event, encourage yourself to jump into the "timeline" and observe the event from a different perspective.
Once you have connected with the timeline, allow yourself to observe and gain insight from the event. Pay attention to any thoughts or feelings that arise, and take time to journal your experience.
When you are ready to return, move your focus back to the timeline and take a few moments to consider the event and any insights that you gained. When you feel complete, move your focus back to the center of the room, and shift your focus back to your body.
Finally, take a few moments to integrate the experience into your body and energy field. Allow yourself to gently drift back into the present moment.
Timeline Jumping Meditation is a powerful practice for expanding your awareness of the past, present, and future. By taking the time to connect to the universal energy and opening your awareness to different perspectives of past events, you may gain a new understanding of your life and path.

H
ave you ever envisioned a potential variation of your self who is additional empathetic, or
kinder to them selves
, or even just a far better prepare dinner? Immediately after identifying parts of ourselves that we would like to perform on and increase, the up coming step is laying the basis to in fact make these types of variations. A single mindfulness strategy for carrying out this asks you to visualize yourself as already obtaining those enhancements: timeline leaping meditation.
Timeline leaping meditation is "a procedure that allows you to meet a model of on your own that is experiencing the reality you motivation," according to Pea the Feary, an artist and spiritualist who started out training this in 2019 on their own right before "releasing it to the world" in 2021. "It's a limited meditation that lets you really feel and really be the version of oneself who's dealing with what you want," they say.
Timeline leaping meditation is "a method that permits you to fulfill a edition of yourself that is encountering the truth you wish." —Pea the Feary, spiritualist
This apply stems from a belief that we live in infinite timelines, with infinite variations of ourselves readily available, and that actuality displays those versions back to us. Pea, who also practices the persona classification program of Human Style, states timeline jumping asks you to "jump" to an additional dimension of oneself, with the first meditation getting the access point. You get to select which self you embody. "What you're executing is tapping into any a single of these infinite experiences that are possible—tapping into the kinds that you are selecting," they say.
The result is a blend of inner discovery and creativity. That is, you will need to be equipped to picture this other self, but Pea claims you ought to also be open to mastering about who this self is. "Part of [the practice's focus is about] clearing out area," they say. Then it can be about "obtaining this variation of oneself relatively than making an attempt to feel them up." This other variation already exists, but you are making you available to be located.
It embodies the idea that Michelangelo, the Renaissance sculptor who developed David, is reported to have expressed: that there is a statue inside of each and every block of marble, and it's up to the sculptor to uncover it. The identical notion applies below, that by undertaking this, you get a clearer plan of the self you want to inhabit. "The gorgeous masterpiece by now exists, and what you're executing each and every time you timeline soar is carving absent at something that's not that," Pea says.
According to Pea, any individual could advantage from timeline leaping meditation. The only prerequisite is understanding that we each individual generate our very own fact and are protected in that prior to starting off the exercise. "Your currently being is the thread that connects everything in your truth to itself, so it is very important that you are having to pay attention to that," they say. In addition, you should not try in an exertion to stay away from or escape a thing taking place in your current timeline, or when you're in a perilous or desperate scenario that calls for "3-D assistance," like a therapist or legislation enforcement, which is what you should look for in its place.
Beyond that baseline comprehension, Pea suggests anybody fascinated in hoping timeline jumping meditation should really try it.
How to exercise a timeline jumping meditation
So what does this actually seem like in observe? According to Pea, a session can variety from 20 minutes to just less than an hour. Some people today like to do a person session at a time, while others like to do several—it all relies upon on your choices. When you established out to do this, these are the essential measures:
1. Decide on your character
This action is about deciding where by you want to soar. You don't have to have an specific vacation spot in thoughts, but it can be handy to assume of characteristics you're trying to emulate.
2. Calibration
This stage is about reflecting on the approaches you by now are your best self inside your existing self, and it prepares you to meet the new self.
3. Enter the void
As the starting of the sought after timeline, this move is the in-amongst.
4. Embrace you chosen self
As the last phase of the session, this is the new timeline you enter.
When you do enter that timeline, however, Pea warns not to leap in as well significantly to a edition of by yourself that you just can't "hold," or in fact embody. "It's likely to feel far too tricky to keep if it's way too much of a extend," Pea states. "We want to be ready to keep this human being with as a lot ease as feasible." For illustration, anyone who is deeply disappointed with them selves could steer apparent of making an attempt to soar quickly to a version that fills them with self-enjoy. As an alternative, they may intention to embody a variation of them selves about which they feel neutral. With practice, they have progress and eventually get to that position of full-on self-love.
Pea has a no cost PDF guidebook available on their internet site with in depth instructions and prompts for working towards a timeline leaping meditation, in addition guided audio out there for buy. They also skilled many others to provide as guides who can support aid one-on-1 classes.
When to do it
Essentially, the finest time to test a timeline jumping meditation is whenever anyone feels the urge to do so. It could be a beneficial resource for when you "need to release and detect with a new version of your self," Pea states. An individual who is experience stuck or uncertain of them selves may well check out it, or even somebody who's just on the lookout for a minimal excitement. Pea says they've uncovered it handy to apply individually when they've felt overwhelmed.
You may also transform to the universe as your tutorial. Astrologer Stephanie Campos, aligns her timeline leaping meditation practices with the phases of the moon. Through the previous quarter moon period, a 7 days right after the entire moon, is Campos's beloved time to do this meditation for the reason that it is a cosmically aligned time to launch old behaviors and habits. "I like to pay attention to a guided meditation timeline leap when I'm having a bathtub," she suggests. "At the time I get out of the tub, I visualize myself stepping via a portal and into the truth I'm contacting in and choose to act as if my dreams are previously manifest Earth-aspect."
Our editors independently decide on these goods. Earning a invest in via our back links may perhaps receive Perfectly+Superior a fee.