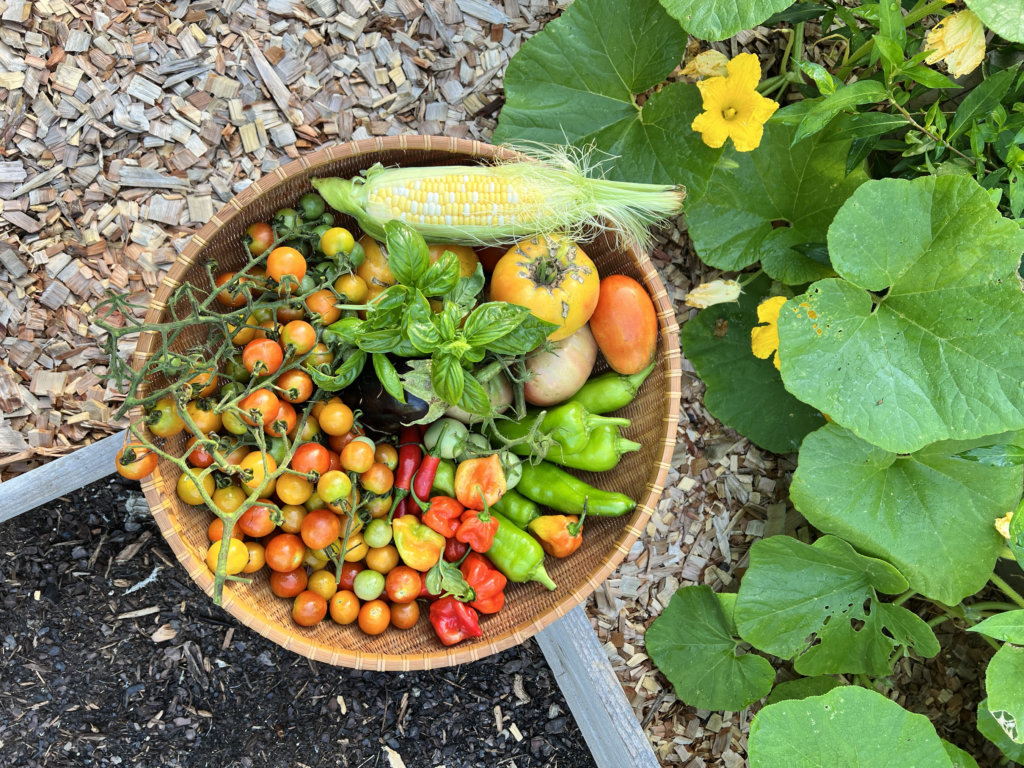 In recent years, mindful eating has become an increasingly popular topic, thought to enhance both physical and mental health. However, there is an aspect of mindful eating that is often overlooked—its potential positive effect on the environment. Picking out food thoughtfully, with a keen awareness of how impacts of production and consumption are felt, can lead to many environmental benefits.
Starting at the very beginning, mindful eating begins with mindful shopping. Being aware of and avoiding food sources with a large ecological footprint—that is, food sources with known links to deforestation or water pollution—can be helpful in curbing unethical production practices and reducing your own personal impact. Buying local and seasonal produce, organic foods, and non-factory farmed beef or poultry can have an even further reaching effect.
Once you get to the kitchen, mindful eating advocates suggest being conscious of what you are throwing away. Meal planning and learning how to repurpose food scraps (like using vegetable skins or stems to make stocks) ensures that everything you buy is used and minimizes wasted food.
Mindful eating can also help mitigate climate change, which is the most pressing environmental problem of our time. Plants-based diets are associated with lower carbon dioxide emissions and other greenhouse gas production, as well as fewer water and land usage requirements than diets involving meat and animal-based products. Additionally, investing in renewable energy sources such as wind, solar, and geothermal to power your home and lifestyle can further reduce one's carbon footprint as well.
Hand in hand with mindful eating, minimizing environmental impact also involves being aware of how and where you dispose of your trash. Recycling, composting, and buying items with less packaging are all simple yet powerful means of reducing your environmental footprint. And if you have the space, starting a home garden can provide sustainable fresh produce and bring greenery to your backyard at the same time.
In sum, mindful eating is an invaluable tool that anyone can utilize to reduce their environmental impact and pave the way for a healthier and greener future. Whether it's being conscious of what you buy, exploring alternative energy options, or learning how to compost, each effort counts towards a sense of purpose and satisfaction. By taking simple steps towards mindful eating, you're actively contributing to environmental sustainability and global health. [ad_1]

As a mindfulness-primarily based registered dietitian, I am passionate about the power of conscious consuming to completely transform not only our particular relationship with foodstuff but also our impression on the natural environment — merging conscious ingesting and sustainability.
Mindful ingesting will involve spending focus to the existing second though listening to our body's requires and it can involve turning into aware of sustainable food decisions. In this post, we will investigate Mindful Having and Sustainability and how aware taking in can benefit the ecosystem, cut down our carbon footprint, and advertise sustainability. 
What is Conscious Ingesting?
Mindful eating is the exercise of having to pay interest to your food stuff and your physique in a non-judgmental way. It involves becoming fully existing for the duration of meals, savoring each and every bite, and listening to your body's alerts of hunger and fullness. The goal of mindful consuming is to deliver recognition to your having patterns, reduce strain all-around meals, and boost your satisfaction of eating.
Mindful Ingesting and Sustainability: How Picking out Your Foodstuff Mindfully Can Gain the Setting
Because deciding on to are living "off-grid" a couple of many years back — we're working our property solely off of solar electricity — I have felt additional related to mother nature than ever. I experience profound gratitude and commitment to guidance the land we get to get in touch with household, and the earth we all get to connect with dwelling.
Getting additional linked to character, increasing my very own food stuff, tending to our forest farm animals, and supporting pure means, has also adjusted my relationship with foods. Aware feeding on has one more layer of appreciation as I can obviously see and know where my food stuff is coming from, owning a larger relationship to much more regional farmers to aid their gardens and rising methods whilst lessening our carbon footprint.
Now, you really do not need to have to dwell "off-grid" or in the forest like I select to, we all can get modest techniques to engage in extra sustainable meals decisions, and mindfully try to eat with sustainability in brain.
How Can Conscious Eating Advantage the Setting?
Strategies for Practicing Mindful Having for Sustainability
Right here are some tips for incorporating conscious consuming into your daily existence to endorse sustainability:
Eat Total Meals: Decide on whole foods that call for nominal processing and packaging, such as fruits, greens, grains, and legumes.
Pick out Regionally Grown and Sustainably Sourced Foods: Glimpse for food items that are developed and sourced locally and sustainably, this kind of as seasonal make and sustainably sourced seafood.
Lower Meat Consumption: Consider cutting down your meat consumption or deciding upon plant-based mostly alternatives, which have a reduce carbon footprint.
Keep away from Foodstuff Squander: Shell out awareness to your body's alerts of starvation and fullness, and select part measurements that match your urge for food. Shop meals adequately to lessen spoilage and waste.
Support Moral Meals Procedures: Decide on meals that are created utilizing ethical and sustainable practices, these types of as reasonable trade and natural farming.
Evidence Supporting Mindful Having for Sustainability
Quite a few studies have demonstrated the possible gains of mindful having and producing extra sustainable foodstuff selections for endorsing sustainability. A person study discovered that contributors who obtained a mindful feeding on intervention diminished their food waste by 30%, whilst a further analyze identified that aware eating interventions were being linked with a reduction in carbon footprint. A overview of 12 research discovered that mindful feeding on interventions ended up efficient in promoting sustainable foods options and decreasing foods waste.
Takeaway
Aware consuming can be a powerful device for promoting sustainability and lowering our influence on the natural environment. By paying out consideration to the foodstuff we eat, lessening foods waste, and choosing sustainable and ethical food tactics, we can advertise a much healthier and much more sustainable foodstuff system.
Bear in mind that aware ingesting is a journey, and it's crucial to be client and compassionate with on your own along the way!
Locate Freedom & Balanced Nourishment.
Embrace a Balanced & Tranquil Relationship with Meals.
If you are hunting to acquire a much healthier connection with foodstuff and renovate your taking in routines, take into consideration signing up for our on the net team coaching software, the Aware Nourishment System. Our method is intended to help you cultivate a conscious solution to feeding on and establish a more healthy romance with foods and your physique.
Get the 3-part method that will support you find out your equilibrium, delight in foods completely, and nourish your marriage with foods to come to feel self-assured, well balanced, and at peace. You will learn the expertise and procedures you need to have to make long lasting alterations to your wellness and properly-remaining. Never wait to start off your journey toward a healthier, happier you.
Be part of the Mindful Diet Process today and discover the transformative power of mindful ingesting.
Here are some investigation article content relevant to aware ingesting and sustainability:
Dunn C., Haubenreiser M., Johnson M., Nordby K., Aggarwal S., Mykerezi E., & Thomas C. (2019). Mindful Having and Dwelling (Meal): Weight, ingesting conduct, and psychological outcomes related with a mindfulness-centered intervention for folks with obesity. Complementary therapies in drugs, 42, 375-382.
Kristensen N. H., Sabaté J., & Petersen K. E. (2014). Health and environmental implications of US meat use and creation. Proceedings of the National Academy of Sciences, 111(33), 11996-12001.
Schneider S. L., Lillico H. G., & McKeown C. K. (2019). Aware feeding on and decreasing food squander: A randomized controlled demo. American Journal of Health and fitness Education, 50(2), 71-79.
Sobal J., Bisogni C. A., & Devine C. M. (2006). A conceptual model of food items option and foods actions. Global Journal of Environmental Investigate and Public Health and fitness, 3(1), 166-175.
Trenchard L., & Kasser T. (2015). Mindfulness, perfectly-remaining, and ecological sustainability: The significant relevance of viewing the organic planet as a commons. Ecopsychology, 7(3), 159-166.
[ad_2]

Supply website link