Healthy Lemon Bars are a delicious treat that require just a few simple ingredients and can be enjoyed in a fraction of the time it takes to make a traditional Lemon Bar. Made with just six ingredients, these bars are perfect for a quick snack, dessert or anytime you're craving a bit of citrus sweetness.
The first step to making a batch of Healthy Lemon Bars is preheating the oven to 350F and taking two medium-sized lemons to make the lemon filling. For this, you'll need four tablespoons of sugar, one tablespoon of freshly-squeezed lemon juice and two tablespoons of softened butter. After combining all of the ingredients together in a small bowl, you can set that aside while you work on the crust.
The crust is very simple, as it needs just two ingredients – one and a half cups of self-raising flour and four tablespoons of butter. Start by adding the butter to the dry ingredients, slowly and steadily, while kneading the mixture in a bowl or using a pastry cutter. Once the mixture is combined and holds together, take out a 9″x9″ greased baking pan and press the dough into it, making sure it lines the bottom and sides.
After blind baking the crust for fifteen minutes, you can pour the lemon filling over it and bake again for a further twenty-five minutes. Once ready, let the Healthy Lemon Bars cool down before cutting them into squares and serving.
Healthy Lemon Bars are a great and nutritious treat that can be enjoyed even when watching your weight or and/or health. Kids love them as much as adults and they can also be easily customized with different flavors – let your creativity take flight! [ad_1]

These healthy lemon bars have an almond flour shortbread crust and a creamy, perfectly tart lemon filling. They're gluten-free, dairy-free, naturally sweetened and made with only 6 simple ingredients!
If you're a fan of lemon desserts you're in for a real treat (literally!) with these healthy lemon bars. They combine an almond flour shortbread crust with a creamy, tart filling that is chef's kiss. I can't wait for you to try them!
Classic lemon bars are usually made with butter, white flour and white sugar (and lots of it!), but to make these lemon bars healthier I used almond flour, maple syrup and no oil or butter! The shortbread crust is made with just 2 simple ingredients (almond flour and maple syrup) and then you only need 4 more ingredients to make the filling. How easy is that?!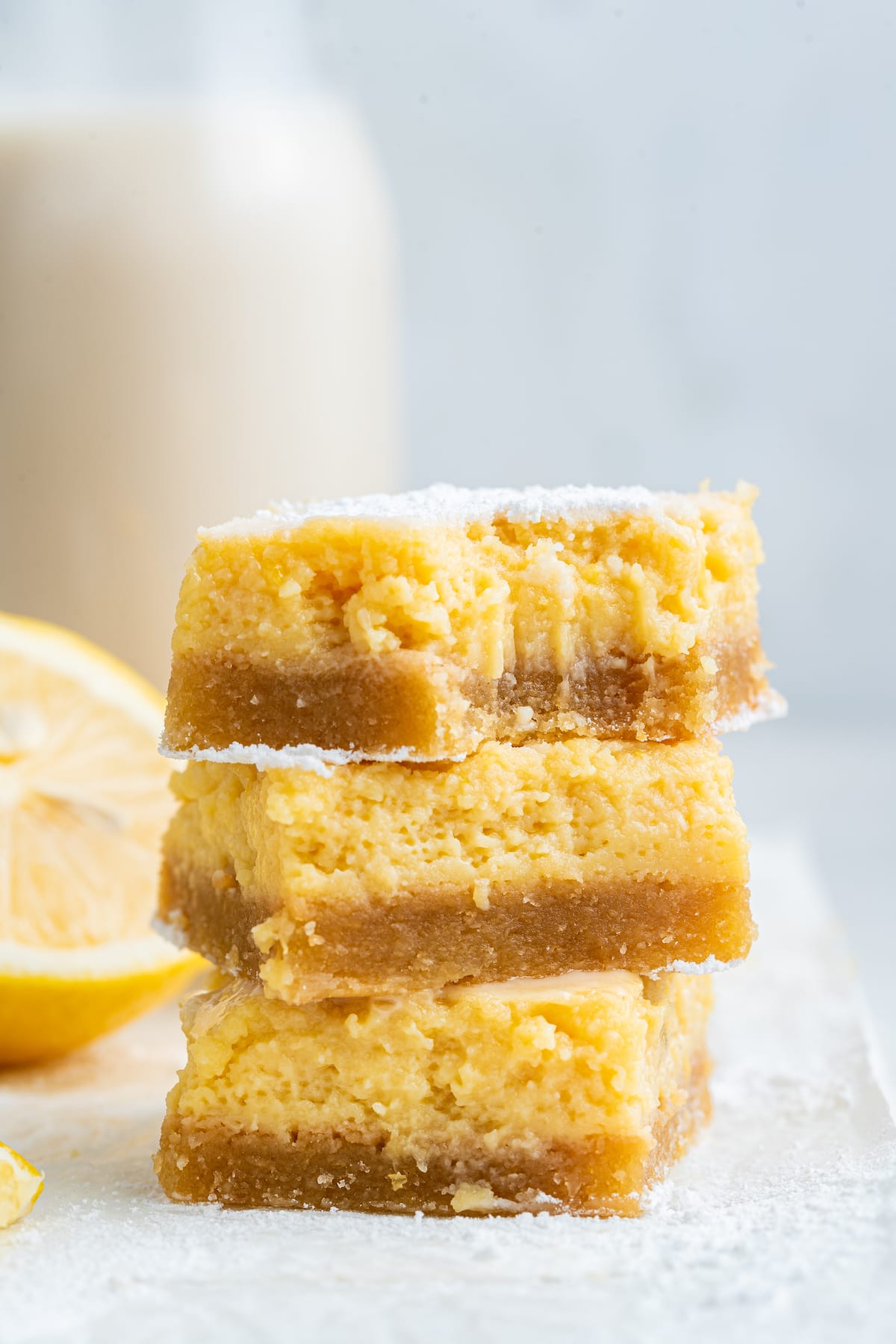 Why You'll Love These Bars
They're bursting with lemon flavor!
Super easy to make and only requires 6 main ingredients!
These bars are gluten-free, dairy-free and naturally sweetened.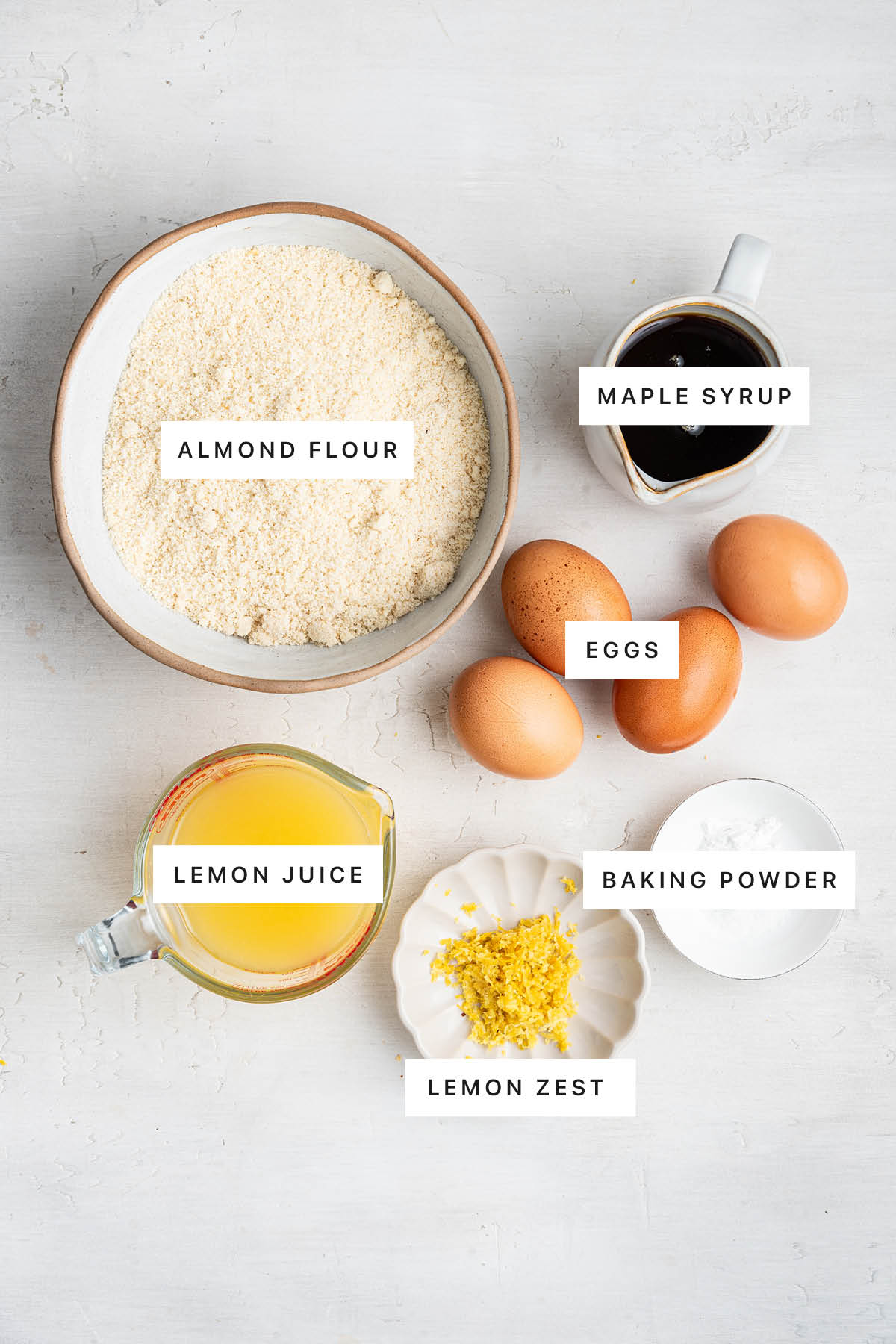 Ingredients Needed
eggs – the eggs help to bind the filling and create a creamy, custard-like texture.
maple syrup – both the crust and filling are naturally sweetened with pure maple syrup.
lemon – the star of the show here! We're using both fresh lemon juice and lemon zest in the filling.
almond flour – we're using almond flour to make the shortbread crust and to help provide structure for the fulling. I used Bob's Red Mill super fine almond flour, which is blanched almond flour meaning the skin has been removed from the nut prior to grinding into a powder.
baking powder – helps these bars to rise!
salt – just a pinch to bring all the flavors together.
powdered sugar – I love topping these bars with a sprinkle of powdered sugar for garnish. This is optional!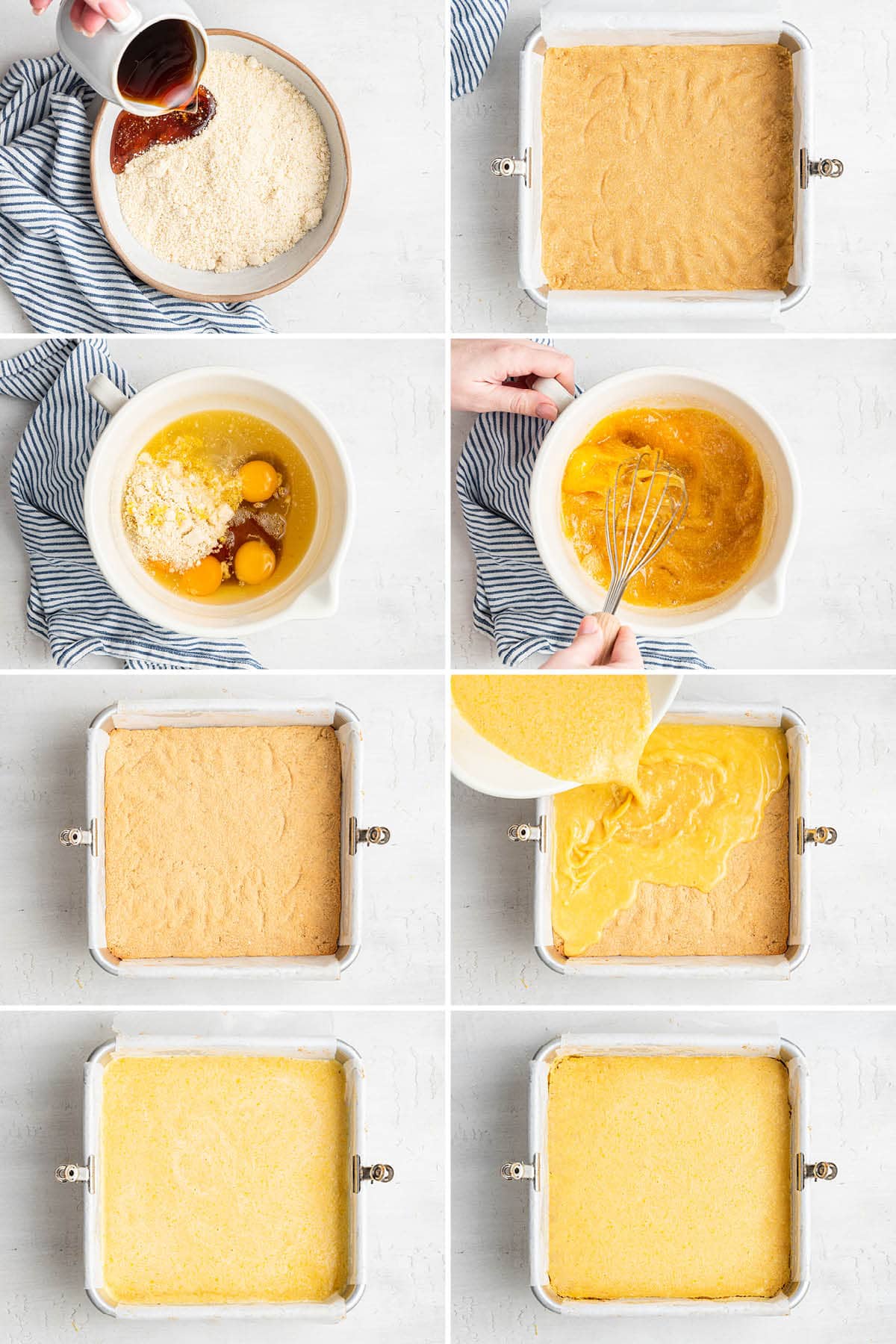 How to Make
Preheat oven: Preheat the oven to 350ºF and line an 8×8 baking dish with parchment paper or spray with cooking spray.
Make & bake crust: Make crust by combining almond flour and maple syrup in a medium bowl. Press the dough firmly into the prepared baking dish. Place crust in the oven and bake for about 20 minutes, until lightly golden.
Mix filling: While crust is baking, whisk filling ingredients (eggs, maple syrup, almond flour, baking powder, salt, lemon juice and lemon zest) together in a large mixing bowl. Once crust is done baking, remove from oven and slowly pour filling onto crust.
Bake, cool and serve: Return baking dish to oven and cook for 20-25 minutes, until filling looks set and is no longer jiggly in the middle. Remove from oven and let cool completely at room temperature. Then let cool in fridge until the bars set up, about 4 hours. Sift powdered sugar onto bars, cut and serve.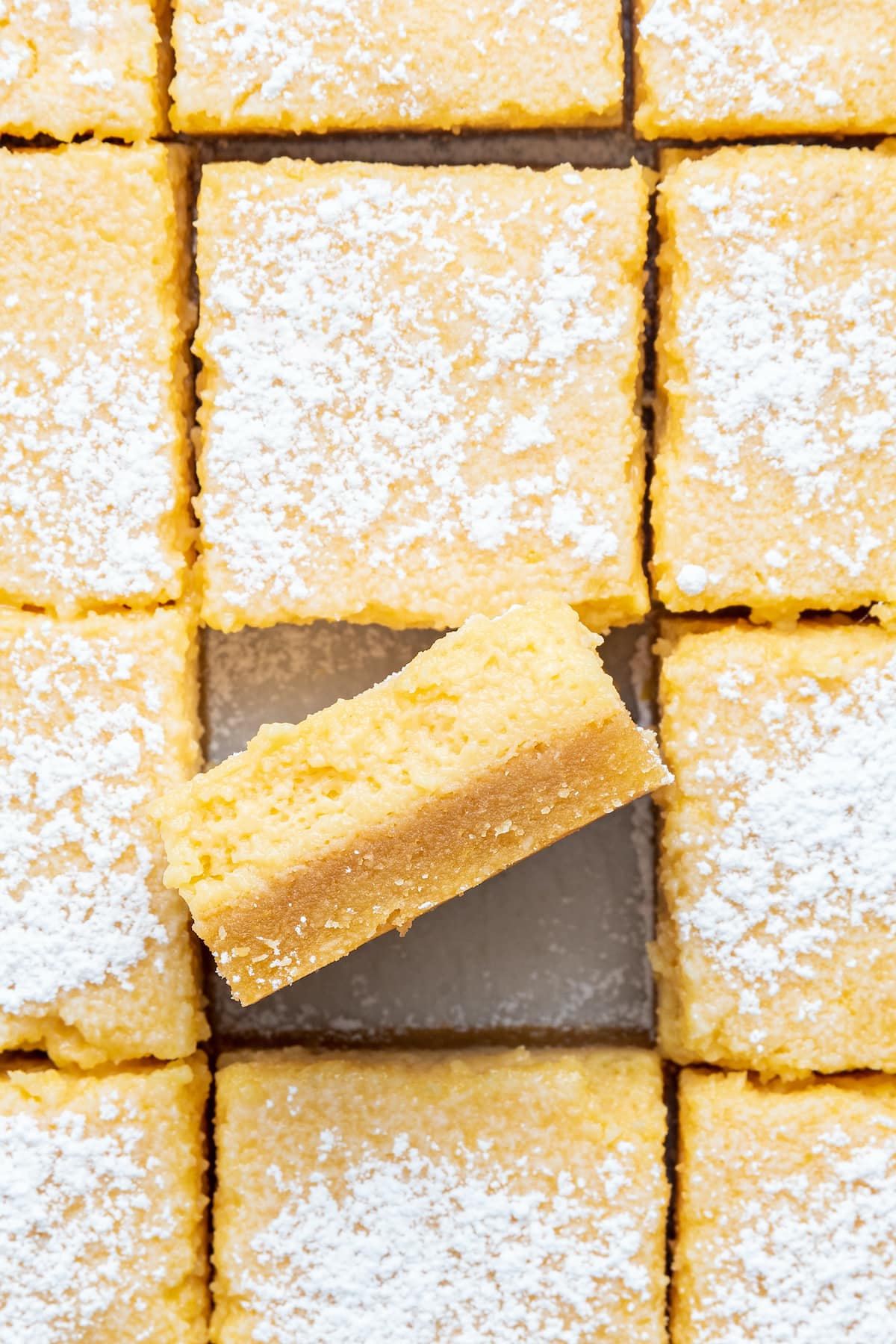 Tips For Success
Use fresh lemon juice and zest. The flavor of fresh lemon juice and zest is far superior to that of bottled juice and will make a big difference in the final product.
Use room temperature ingredients. This will help the ingredients to combine more easily and create a smooth filling.
Don't over-bake. Just bake the bars until the edges are golden brown and the filling is set. The filling should jiggle just a little bit when you shake the pan, but not slosh around.
Cool completely. This will allow the filling to set and make it easier to cut cleanly. Also, make sure to cool these bars at room temperature before placing in the fridge to set. If you put these bars in the fridge while the bars are still warm it might cause the top to crack.
Garnish with powdered sugar just before serving. If garnishing with powdered sugar do so once bars have completely cooled. If you add the powdered sugar while bars are still warm the powdered sugar will melt into the bars.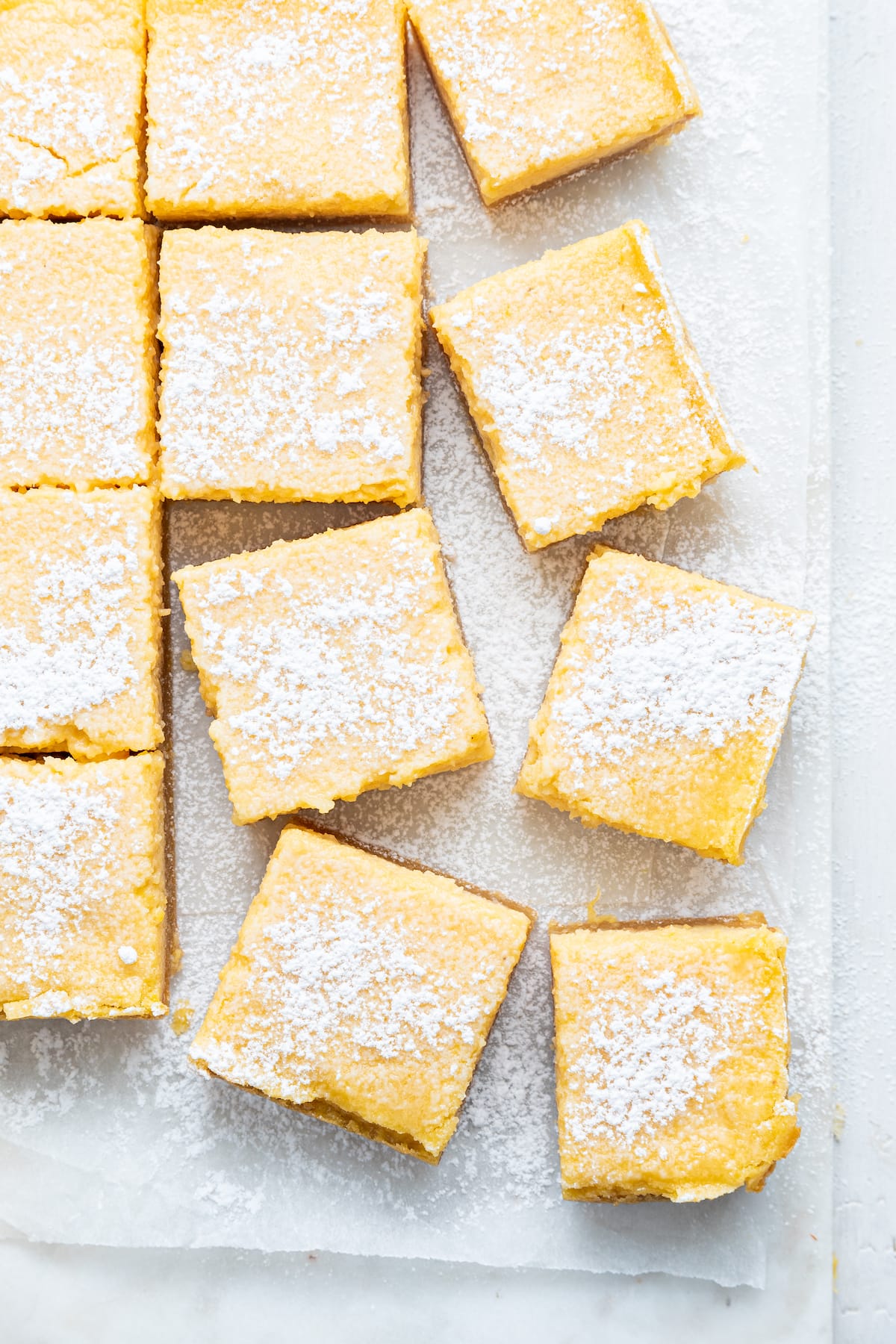 How to Store Lemon Bars
In the fridge: Before storing these lemon bars, make sure they've cooled completely. You can store them in an airtight sealed container in the refrigerator for up to 5 days.
In the freezer: If you freeze these bars I recommend storing them with parchment paper in between the bars so they don't stick together. Store in a freezer-safe container for up to 1 month. Before serving, let them thaw in the refrigerator.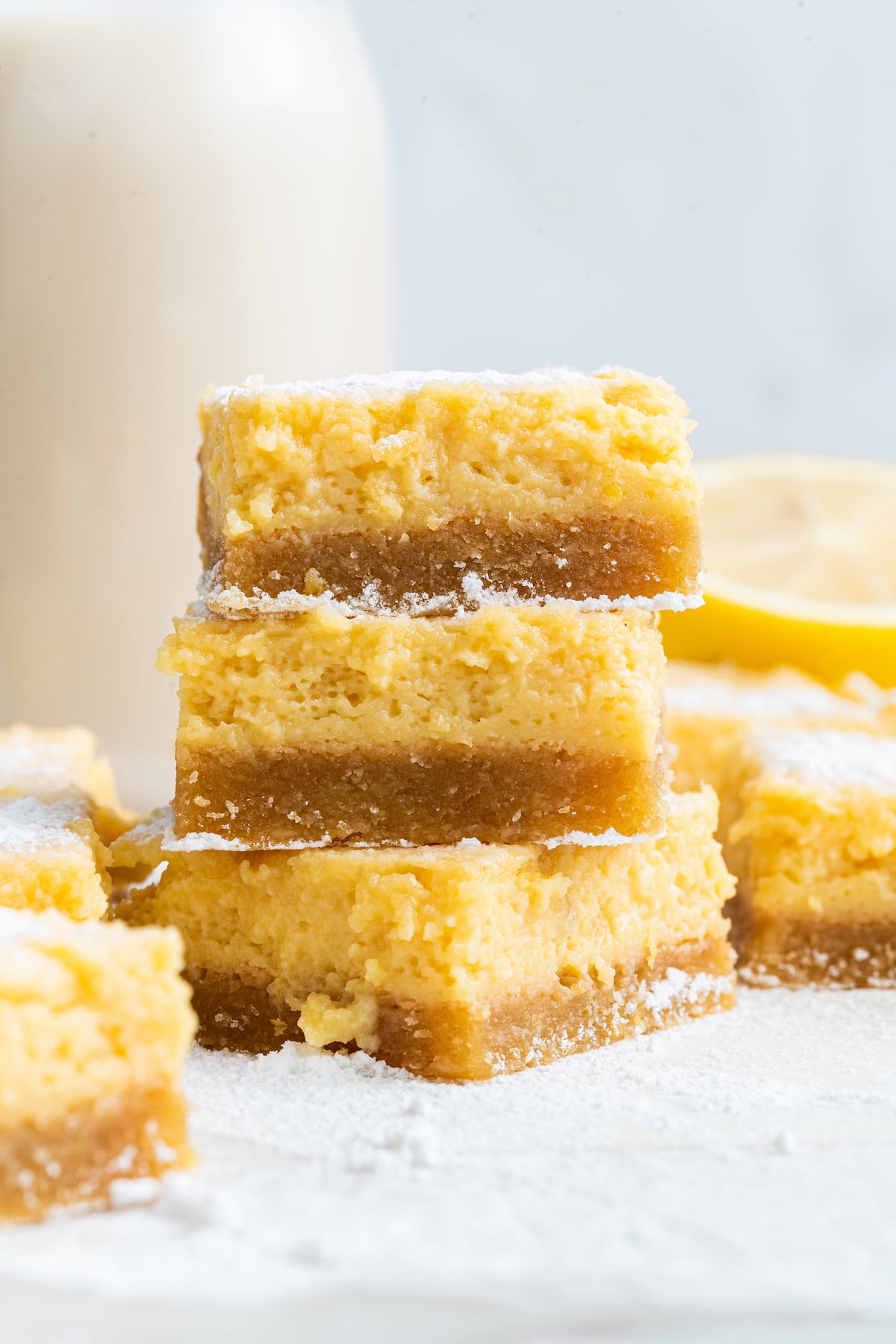 More Lemon Recipes to Try
More Almond Flour Recipes
Check out all of the almond flour recipes as well as the full collection of dessert recipes on EBF!
Serving: 1 bar | Calories: 164kcal | Carbohydrates: 19g | Protein: 6g | Fat: 8g | Cholesterol: 47mg | Sodium: 44mg | Potassium: 147mg | Fiber: 2g | Sugar: 16g
Nutrition information is automatically calculated, so should only be used as an approximation.


[ad_2]

Source link