If you've been looking for a new, healthier snack that is both nutritious and delicious, frozen cottage cheese bark is the perfect solution!
This relatively new snack craze has its roots in food blogger Tina Haupert's Eating Bird Food website. Available in a wide variety of flavors and ingredients, this cottage cheese bark is the perfect replacement for unhealthy and sugary snacks like potato chips and candy.
The bark is made by blending cottage cheese with a variety of fruits, nuts and spices. The mixture is then pressed onto a parchment-lined baking sheet and placed in the freezer. After a couple of hours, it can be broken into pieces and enjoyed cold or warm.
Cottage cheese is a great alternative to traditional snacks because it's loaded with protein, calcium and probiotics. For example, one serving of plain cottage cheese contains 14 grams of protein, nearly 300 calories and a whopping 10grams of calcium. This makes it a great snack to fill you up and keep you feeling full longer.
In addition to being a delicious snack, cottage cheese bark is incredibly easy to make. All you need is a food processor, some parchment paper, and a few simple ingredients. Plus, because it is made with natural ingredients, it is free from added sugars and preservatives.
If you are looking for a healthier alternative to traditional snacks, frozen cottage cheese bark is the perfect solution. Not only is it delicious and nutritious, it's also incredibly easy to make. So, if you're in the mood for something sweet and healthy, this is the perfect snack for you. [ad_1]

This frozen cottage cheese bark with peanut butter, chocolate and granola is the perfect refreshing treat. It's healthy, creamy, easy to whip up and packed with protein.
Introducing your new summer snack obsession: frozen cottage cheese bark!
After sharing my version of the viral cottage cheese ice cream I couldn't resist trying a frozen cottage cheese bark. And I must say, I like this recipe more than my frozen yogurt bark… it's creamier and packed with more protein. Plus, you can't beat the peanut butter + chocolate combo. It's so good!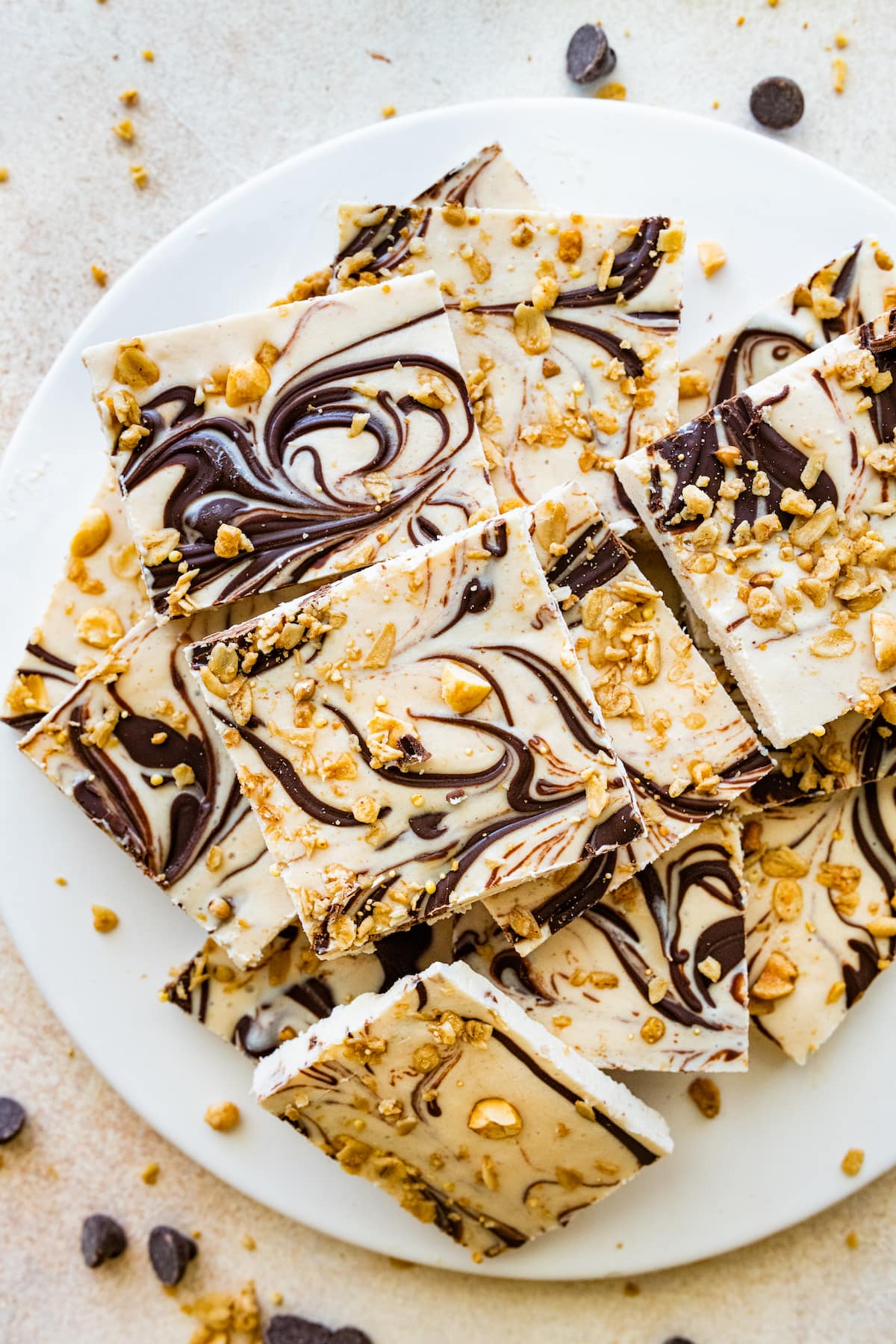 Why You'll Love This Recipe
High-protein: One serving is packed with about 12 grams of protein!
Refreshing: It's the perfect refreshing snack to keep in your freezer all summer long!
Kid-approved: It's the perfect recipe to involve your kiddos in. They'll love swirling the chocolate and sprinkling the granola on top.
Easy to make: Just blend, top and freeze. The hardest part is waiting for it to set in the freezer.
Customizable: Feel free to get creative and make this recipe your own.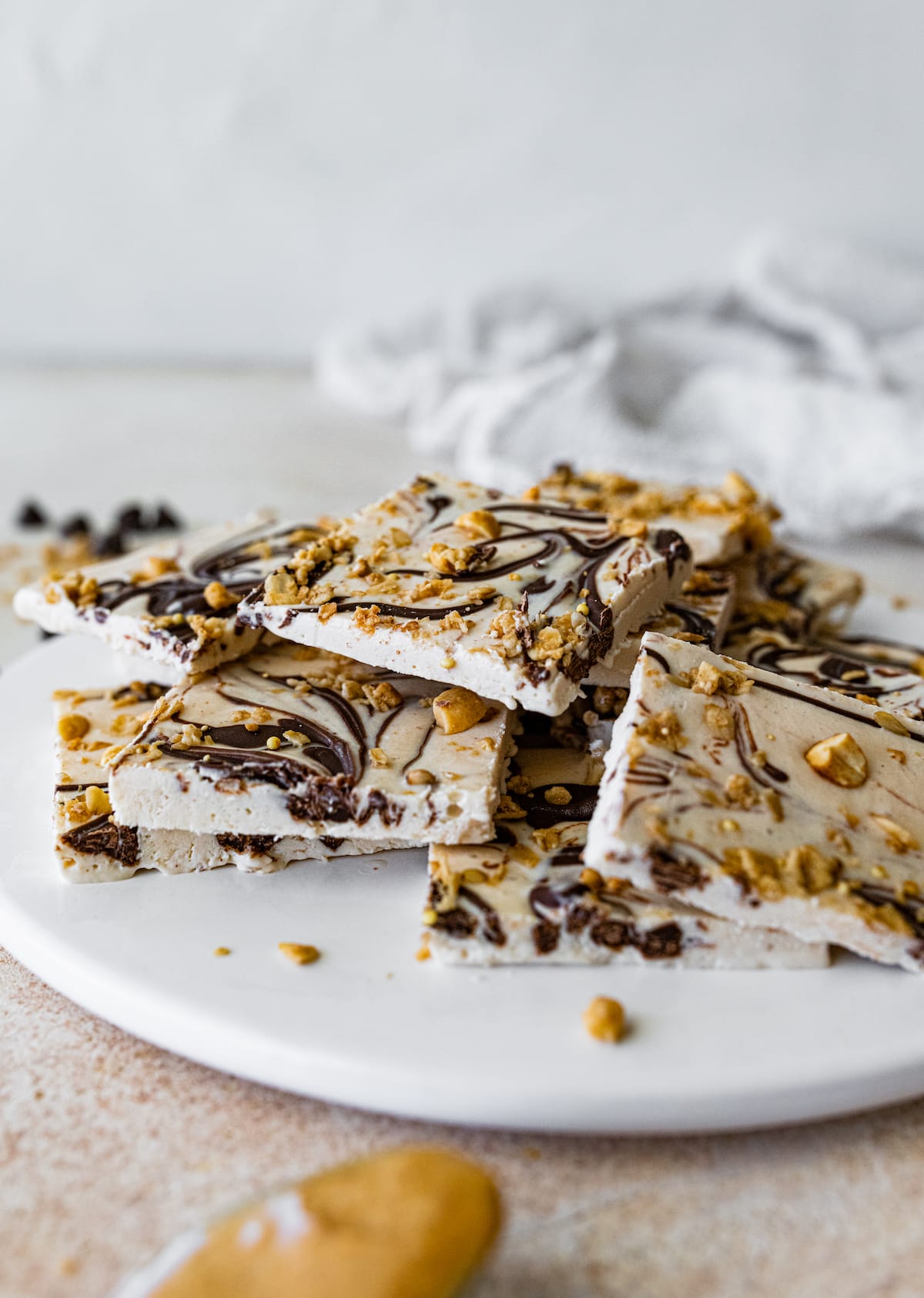 Ingredients Needed
cottage cheese – the key component of this recipe, providing a creamy texture and rich flavor with plenty of protein. I used full-fat Good Culture cottage cheese, but low-fat will work as well. Full fat will definitely provide the best texture and will be creamier though!
honey – for the sweetener in this recipe I went with honey, which pairs nicely with the cottage cheese. Feel free to use maple syrup or your liquid sweetener of choice in this recipe.
peanut butter – adds a nutty flavor and more protein to this recipe. Feel free to swap it with almond butter or any nut/seed butter of your choice if you have a peanut allergy or prefer a different flavor.
chocolate chips – we're melting chocolate chips to swirl throughout the bark before freezing. I used Lily's dark chocolate chips because they are sweetened with stevia and low in sugar, but you can use any brand you prefer.
granola – the final touch, providing a satisfying crunch and texture to this bark. Choose your favorite store-bought granola or make your own at home (this hemp granola would be delicious).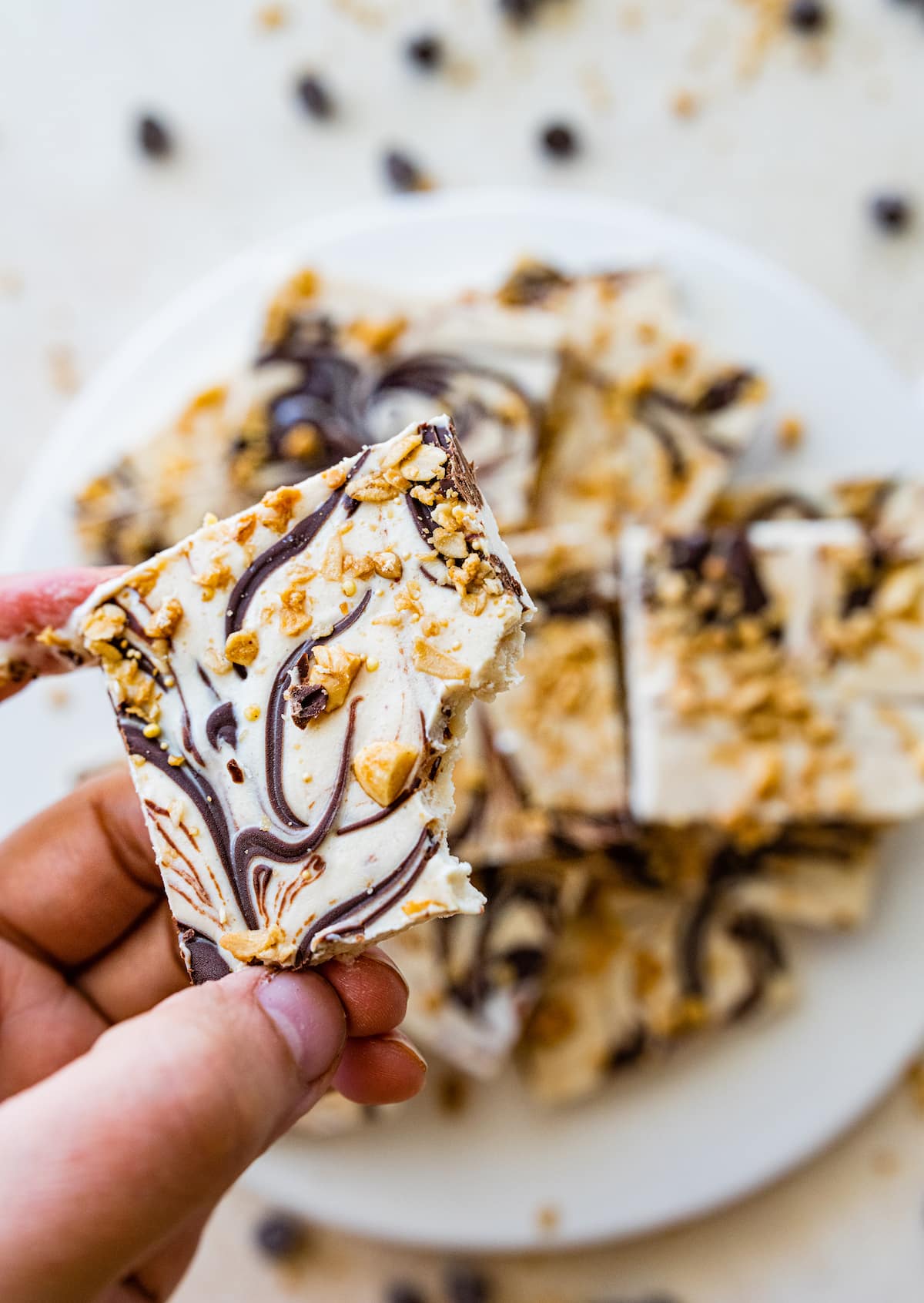 How to Make
Blend together cottage cheese, honey and peanut butter until smooth in a food processor or high-powered blender.
Pour blended mixture onto a parchment-lined baking sheet (make sure it's rimmed! We don't want a yogurt mess in your freezer) and spread evenly with a spatula into a rectangular shape. You want your bark to be about a 1/4 of an inch thick.
Melt chocolate chips and add teaspoon size dollops onto the cottage cheese layer. Use a knife to swirl the chocolate around. Sprinkle granola on top.
Now the hard part… waiting! Place the bark in the freezer for about 3 hours or until the cottage cheese is firm. Cut into pieces and enjoy!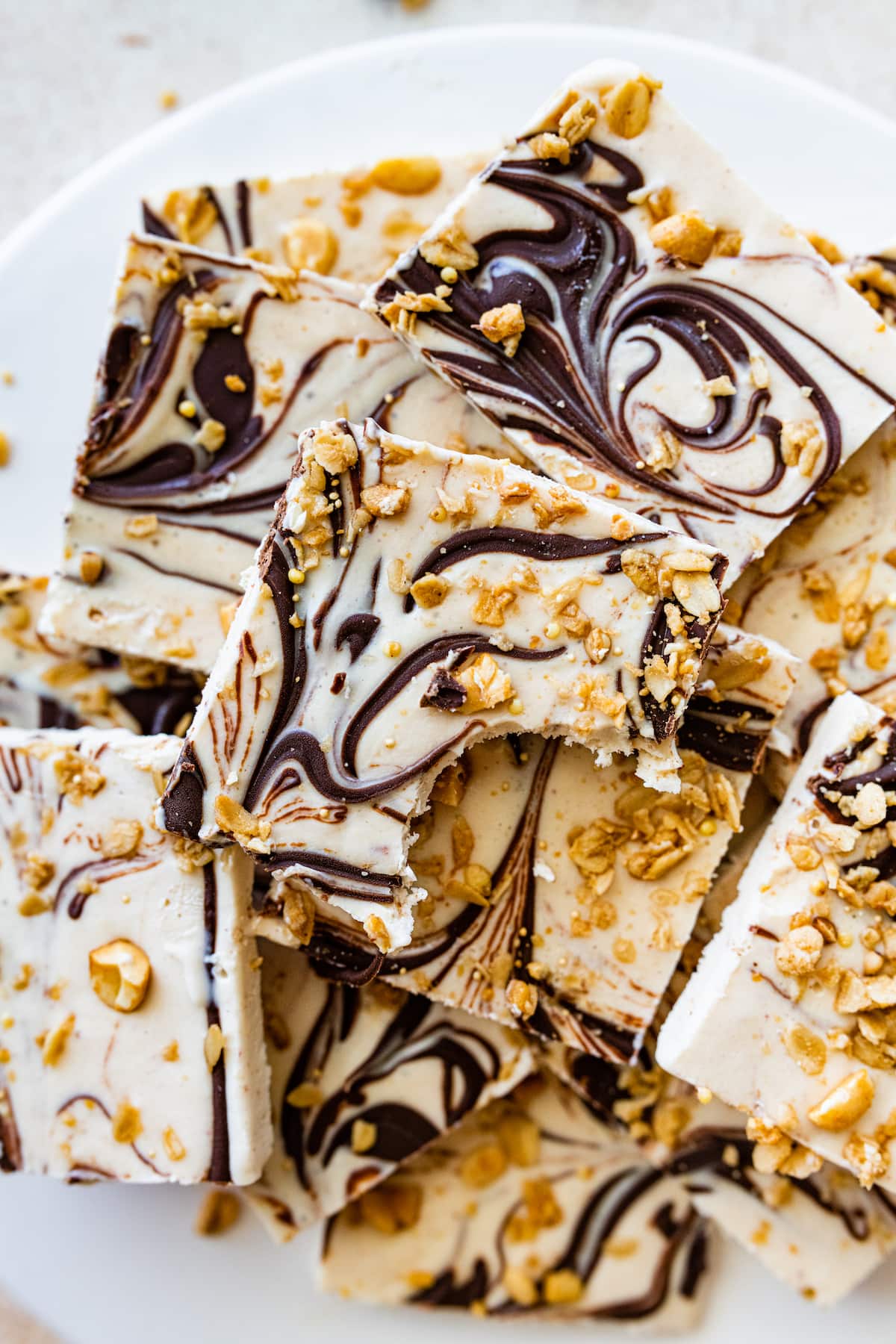 Flavor Variations
There are so many ways to customize this cottage cheese bark! I can already see myself making this all summer long in different variations. Here are some ideas:
Add fruit: Top this bark with your favorite berries or sliced fruits for a burst of natural sweetness and a pop of color. Fresh strawberries, blueberries, blackberries or bananas would be my top choices.
Skip the nutter butter: Don't want a nutty cottage cheese bark? Feel free to skip the nut butter and just blend up the cottage cheese and sweetener.
Swap the chocolate: Want to take this bark in a different direction? Swap the chocolate swirls with your favorite store-bought jam (or try this strawberry chia jam) for a fruity version.
Add more protein: This cottage cheese bark is already packed with protein, but if you want more of a protein boost, blend in your favorite protein powder.
Go wild on toppings: This cottage cheese bark would be delicious with so many different toppings like shredded coconut, chopped nuts, graham crackers or fresh fruit.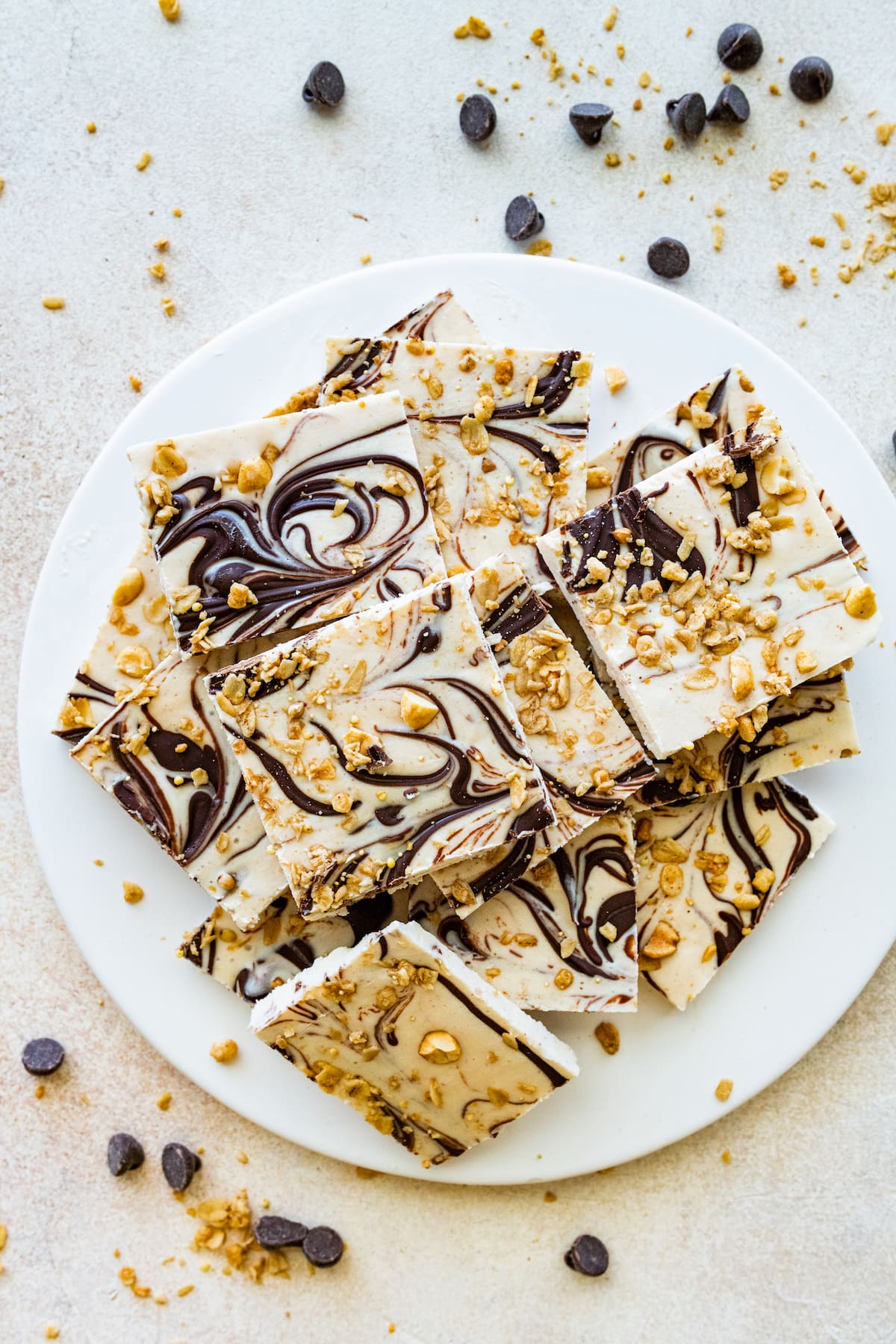 How to Store
I recommend storing your frozen cottage cheese bark in an airtight container in the freezer until you're ready to serve! I've been using my Stasher bags for mine. When ready to enjoy, I like bringing it out of the freezer a few minutes before serving, just to let it soften up the tiniest bit.
This bark will keep up to 3 months in the freezer, but I bet it won't last that long!
More No-Bake Treats to Try
Be sure to check out all of the cottage cheese recipes as well as the full collection of dessert recipes on EBF!
Serving: 1/6 of recipe | Calories: 145kcal | Carbohydrates: 15g | Protein: 12g | Fat: 7g | Saturated Fat: 3g | Cholesterol: 10mg | Sodium: 259mg | Potassium: 55mg | Fiber: 3g | Sugar: 8g
Nutrition information is automatically calculated, so should only be used as an approximation.


[ad_2]

Source link