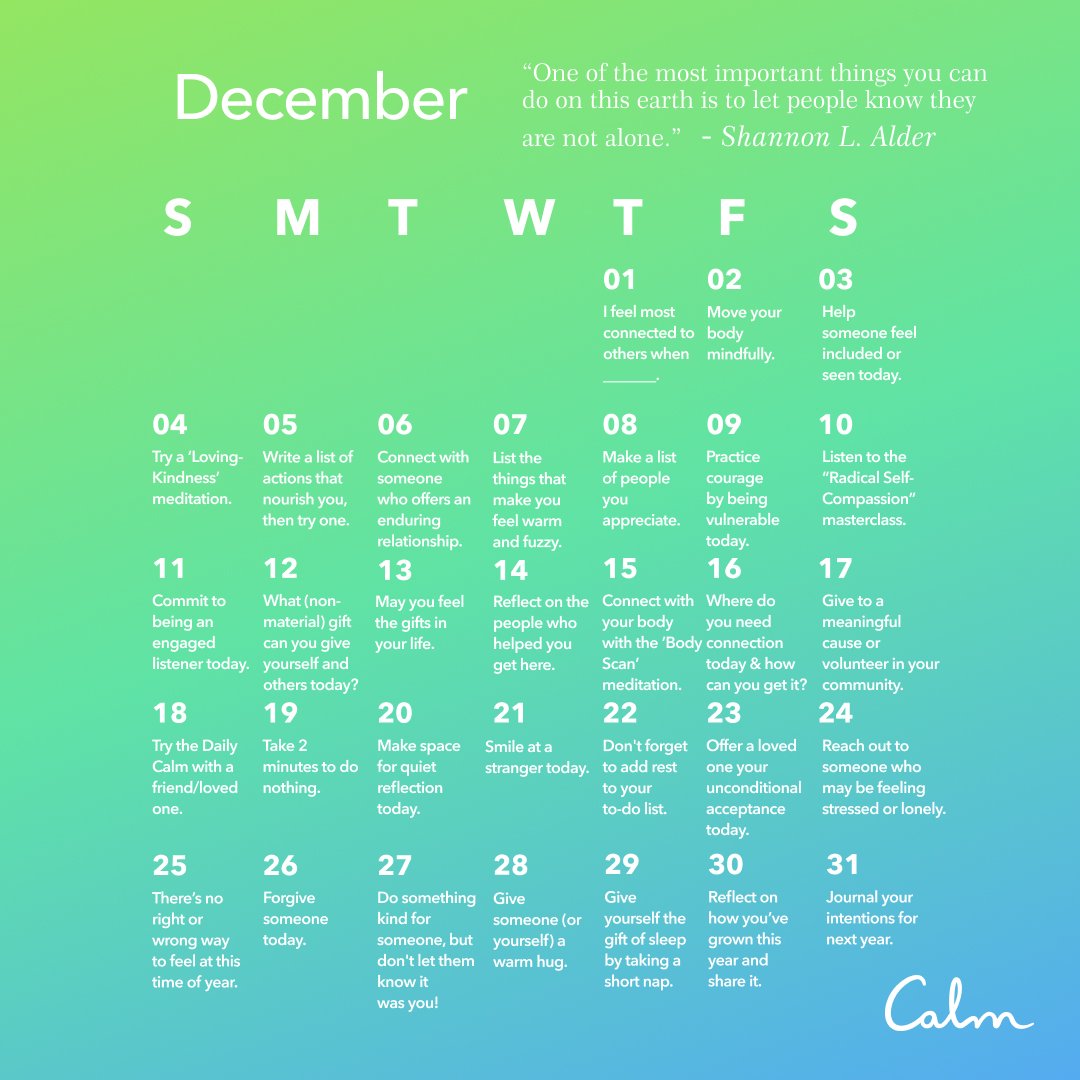 December 2022 Calm Calendar — Calm Blog
Welcome to December 2022! As the busy Christmas season arrives and we enter into the new year, it is time to pause and take a breath. With this in mind, the Calm Blog team has crafted a Calm Calendar for the month to help you set aside time for yourself amidst the flurry of activity.
The Calm Calendar is divided into four week-long meal plans, each of which has been carefully designed to nourish both your body and your mind. Each week begins with a breakfast intended to give you a nourishing start to the day, followed by balanced dinners that provide both physical and emotional sustenance. Every day includes activities tailored to ensure you receive adequate relaxation, creativity, and mindful moments.
Each week kicks off on Sunday with a carefully chosen leisure activity, such as a walk in nature, an art class, or a yoga session. Time is also reserved for recharging the body and spirit with the use of breath work, meditation, and mindfulness. The calendar also includes affirmations, self-care reminders, and journal prompts designed to help you stay present in the moment and give you time to reflect.
The Calm Calendar is carefully designed to help you take time out each week to focus on yourself and reconnect with your sense of balance and wellbeing. We believe that taking regular breaks to help protect mental health is essential. December is the perfect time to be mindful and start the year with a healthier and calmer mindset.
Thank you for taking the time to journey through our Calm Calendar. We hope that you feel relaxed, replenished, and mindful as you head into the New Year.

December 2022 Calm Calendar
The Calm Calendar is an invitation to meet your life with presence and curiosity. 
Our daily mindfulness affirmations serve as encouragement to learn more about yourself and the world. All to say it's not about getting it right, but rather checking in with yourself, deepening your awareness and celebrating each step of the journey.
This December, as we celebrate the holiday season, we invite you to lean into community, connection and compassion.
Subscription Calendar
Add Calm's Mindful Living challenges to your calendar here.
Compatible with Apple, Google, Outlook and Yahoo
Wallpapers
Make Calm's Calendar your wallpaper on your desktop or tablet. We've created a variety of sizes to match your screen resolution. 
⬆ Click on the image above to download and print.
Share your journey
Please remember that you are not alone on this journey. You're joining thousands of people from across the globe in this mindful adventure. Please share your experience and tag us on Instagram, Twitter, Facebook, or join the discussion in the Daily Calm Community.