Chocolate peanut butter granola bars are the perfect snack if you are looking for something delicious but also nutritious. From their crunchy texture to the sweet and salty flavour from the combination of chocolate and peanut butter; these bars are sure to make you the envy of your friends with every bite.
The granola bars are easy to make at home, with just a few simple ingredients: rolled oats, crispy rice cereal, peanut butter, honey, dark chocolate chips and a few other choice additions such as shredded coconut and sesame seeds. All of these ingredients are blended together in a large bowl, then pressed into a greased or lined baking pan. The bars are then baked in the oven for twenty to thirty minutes until golden and fragrant. Once out of the oven, they can be sliced and enjoyed straight away, or stored in an airtight container and enjoyed later.
These bars are not only delicious but also nutrient-dense, containing a wide range of vitamins and minerals to nourish the body. For example, the oats contain an array of B vitamins, while the sesame seeds and coconut are a source of healthy fats, giving the bars a boost of energy when sometimes needed. The peanut butter and chocolate provide a boost of protein and fibre, respectively, to ensure nutrient absorption is maximised.
Chocolate peanut butter granola bars are a delicious, convenient and most importantly nutritious snack to have in-between meals or when on the go. So, why not give them a try? You won't be disappointed!

These chocolate peanut butter granola bars are chewy, easy to make and hold together nicely. They're vegan, gluten-free and perfect for an on-the-go breakfast or snack.
I love granola bars, but it's always a struggle to find ones at the store with a simple ingredient list that aren't loaded with added sugar and preservatives. That's why I prefer to make my own at home! I already have a few granola bar recipes on the blog, but today I'm sharing my favorite one to date: chocolate peanut butter granola bars!
Not only are these granola bars made with simple, wholesome ingredients, but they're so easy to whip up and way cheaper than buying store-bought bars. Plus, you can never go wrong with the combo of peanut butter + chocolate, am I right?!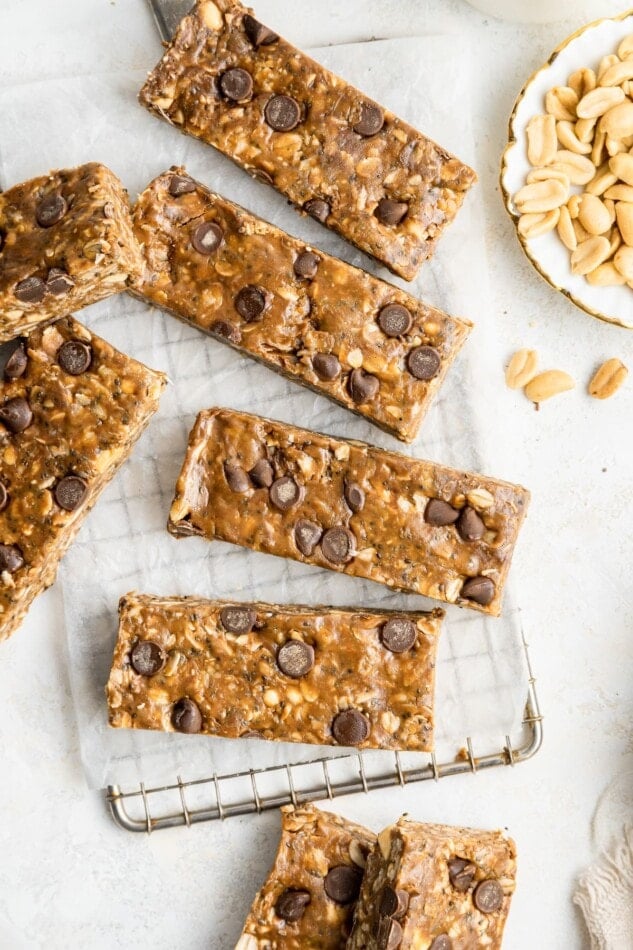 Why You'll Love This Recipe
Chocolate + peanut butter = best combo ever!
Gluten-free, vegan and can easily be made nut-free with a few simple swaps!
They're no-bake, so no need to turn on your oven.
These bars don't have protein powder, so they're perfect for kiddos!
Great for meal prep and freezer-friendly.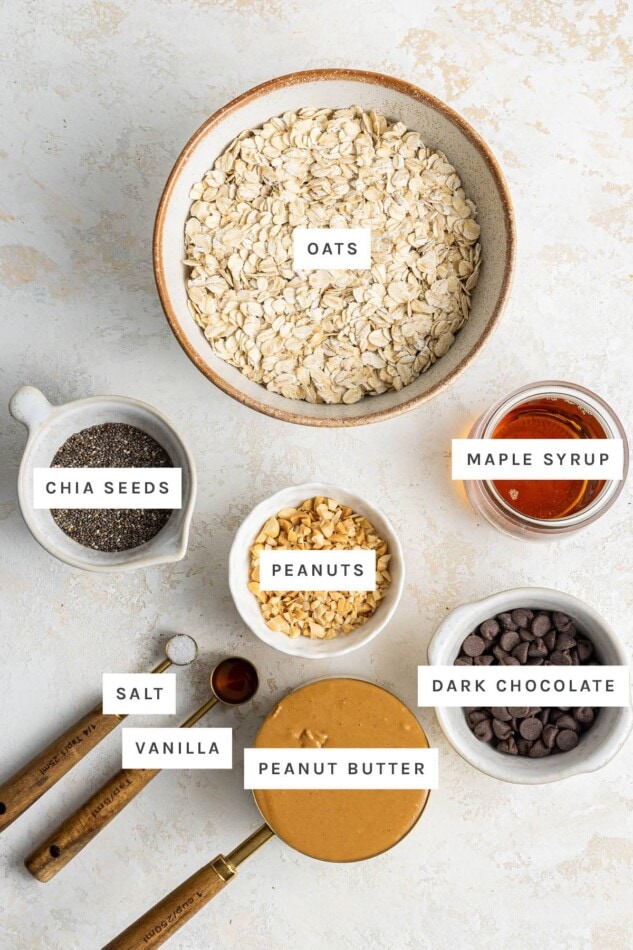 Ingredients Needed
old fashioned rolled oats – provides the base for these granola bars and add a chewy texture. They're also a good source of fiber! Make sure you grab gluten-free oats if needed. I use Bob's Red Mill gluten-free rolled oats.
drippy peanut butter – adds a creamy, nutty flavor and helps to bind everything together. Plus, it adds protein to these bars! You want to use natural, drippy peanut butter not a thick peanut butter spread. I usually go for the store brand and read the label to make sure it has just one or two ingredients, the nuts and salt. Any natural creamy nut butter will work. Some of my favorite brands are the Wild Friends peanut butter and 365 organic creamy peanut butter.
maple syrup – the perfect liquid sweetener for these granola bars. You can also use honey if you prefer.
chopped peanuts – for some crunch and added protein! I prefer to use raw peanuts, but feel free to use roasted and salted peanuts if that's what you have on hand.
dark chocolate chips – I recommend Enjoy Life mini chocolate chips which are allergen-friendly or Lily's chocolate chips because they are low in sugar and calories. Feel free to also chop up your favorite chocolate bar and toss the chocolate chunks in!
chia seeds – add a boost of nutrients, including fiber and omega-3 fatty acids.
vanilla extract

– a flavor enhancer.

sea salt – just a pinch! If you're using salted peanuts you may want to leave this out.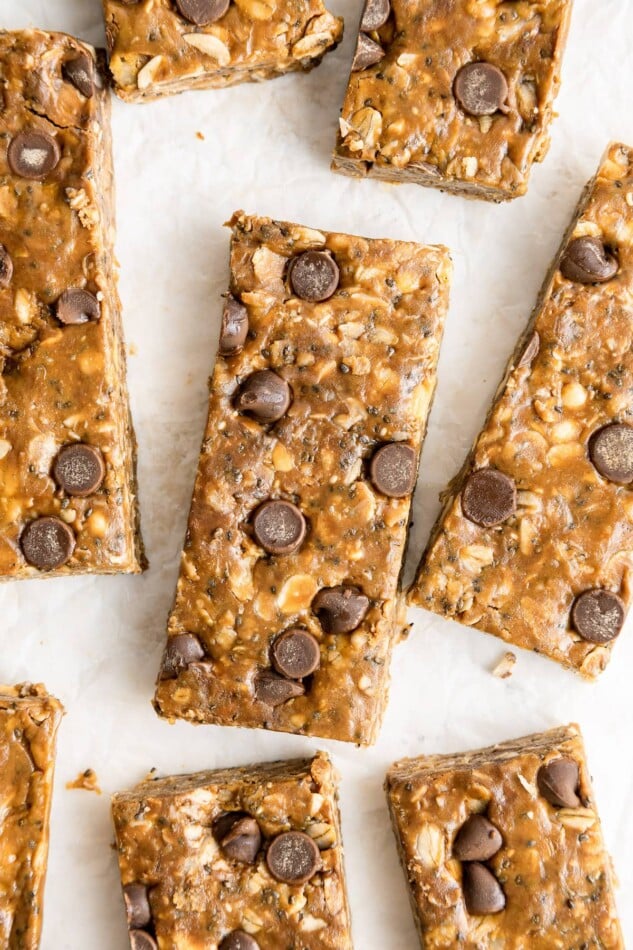 Substitutions
Peanuts and peanut butter: If you're allergic to peanuts or simply don't have any on hand, you can use another type of nut or seed instead. Almonds, cashews, sunflower seeds and pepitas are all great options. The same goes for peanut butter. You can swap it out for a different type of nut or seed butter like almond butter, cashew butter, sunflower seed butter or tahini if you prefer. If you're looking for a specific nut-free granola try these nut free granola bars instead!
Chia seeds: You can totally skip these if you don't have any on hand or use another type of seed in their place, such as flax seeds or hemp seeds.
Maple syrup: You could always use another type of liquid sweetener such as honey or agave nectar instead of the maple syrup if you want.
Mix-ins: Feel free to customize this recipe with different mix-ins. You can easily swap the chocolate chips for something else like dried cranberries, raisins or coconut flakes.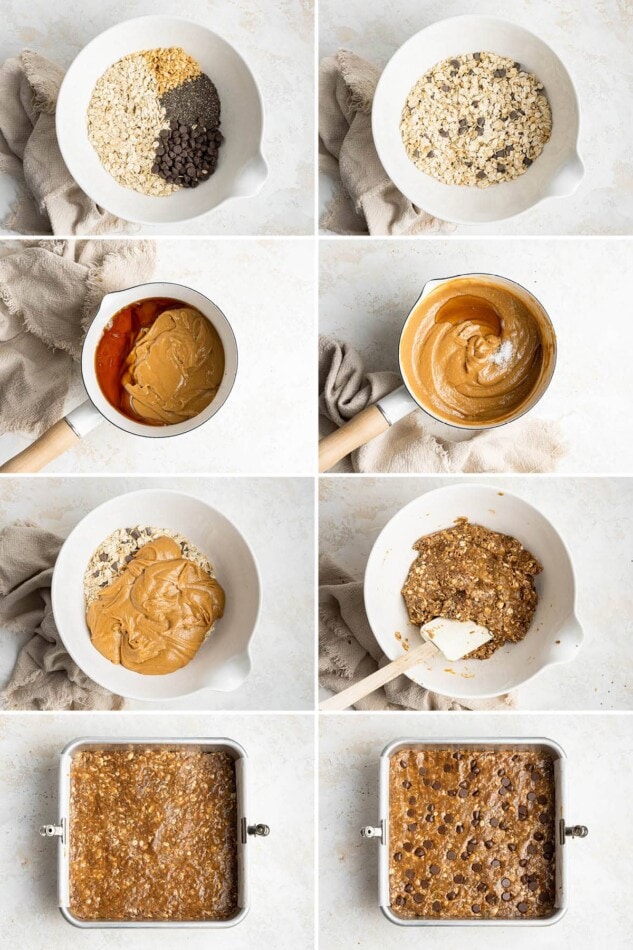 How to Make
Prepare pan: Line an 8×8-inch baking dish with parchment paper. I like to use binder clips to clamp the parchment down so the parchment stays in place.
Mix ingredients: Combine oats, peanuts, chocolate chunks and chia seeds in a mixing bowl.
Heat peanut butter: Heat peanut butter and maple syrup in a medium saucepan over medium low heat, stirring constantly until combined and warm, about 2-3 minutes. Remove from heat and stir in vanilla and sea salt.
Combine: Pour peanut butter mixture into the bowl with the oat mixture and toss until everything is evenly coated. It's okay if the chocolate starts to melt!
Press into pan: Pour mixture into prepared baking pan and press the mixture firmly using your hands so it's evenly spread out. Add more chocolate chips on top and press these in as well.
Chill and serve: Once bars are pressed down firmly, place pan in the fridge for at least 2 hours to allow the bars to cool and firm up. Once the bars feel solid/hard to the touch, remove from the pan, place on a cutting board and slice into 10 bars. Serve immediately or save for later.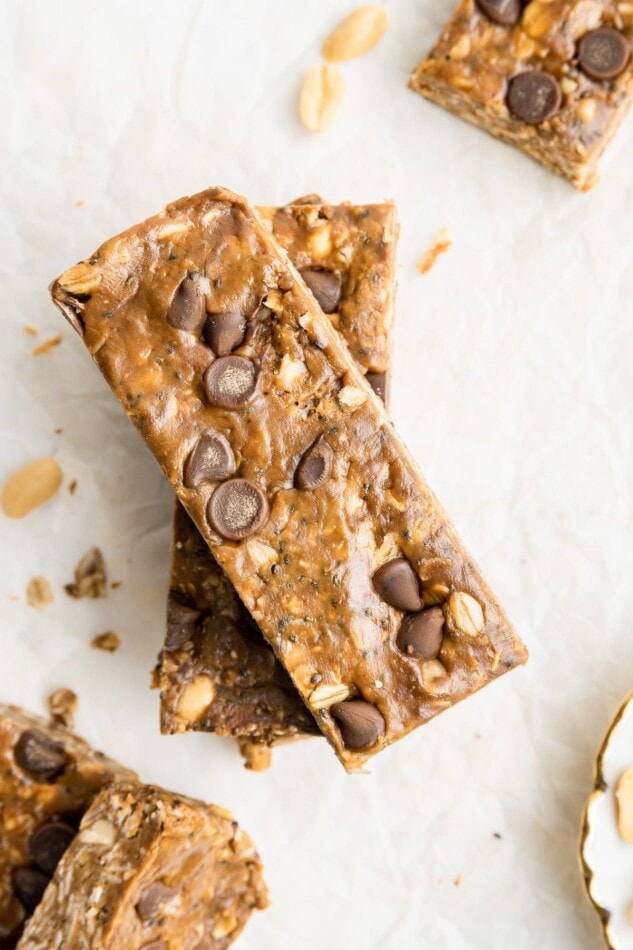 How to Store
One of the best things about these peanut butter chocolate chip granola bars is that they store really well and are perfect for meal prep!
After the bars have set, cut and store them in an airtight container (like a Stasher bag or glass container) in the refrigerator for 1 week or in the freezer for up to 3 months. I like to store them after being cut so they're ready to grab and go! If you do freeze them, just thaw in the fridge or at room temperature before enjoying them.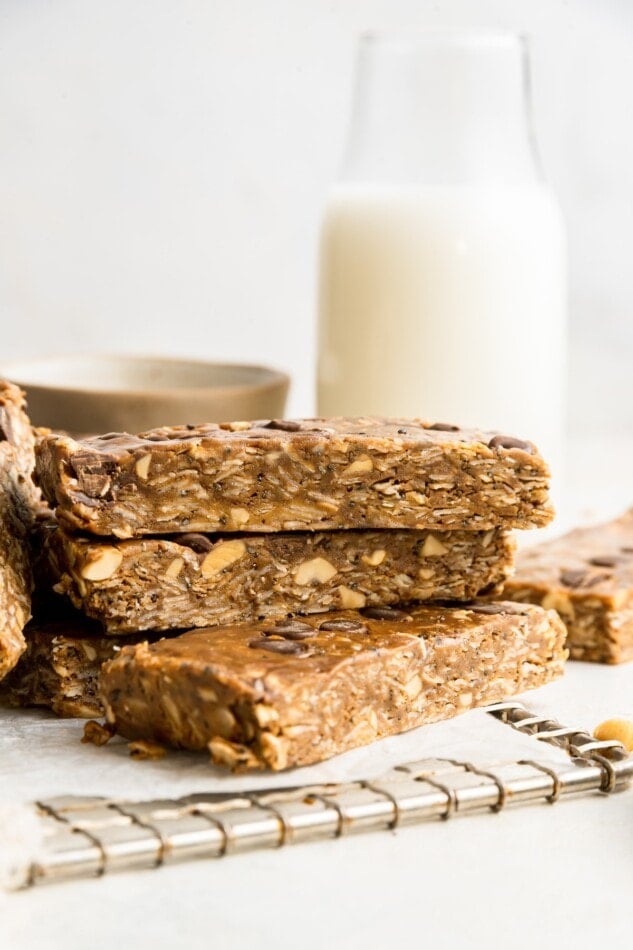 More Bar Recipes to Try
Be sure to check out my full collection of snack recipes here on EBF!
Chocolate Peanut Butter Granola Bars
These chocolate peanut butter granola bars are chewy, easy to make and hold together nicely. They're vegan, gluten-free and perfect for an on-the-go breakfast or snack.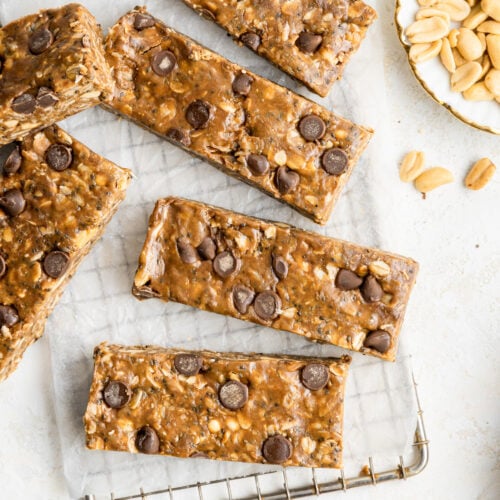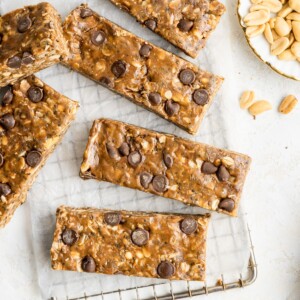 Serving: 1 bar Calories: 324kcal Carbohydrates: 29g Protein: 11g Fat: 19g Saturated Fat: 3g Polyunsaturated Fat: 1g Monounsaturated Fat: 1g Sodium: 138mg Potassium: 329mg Fiber: 5g Sugar: 12g
DID YOU MAKE THIS RECIPE?
Please leave a comment and star rating on this post and share on social media using the hashtag #eatingbirdfood. I love seeing your recipe shares!
This post may include affiliate links. Thank you for your support.