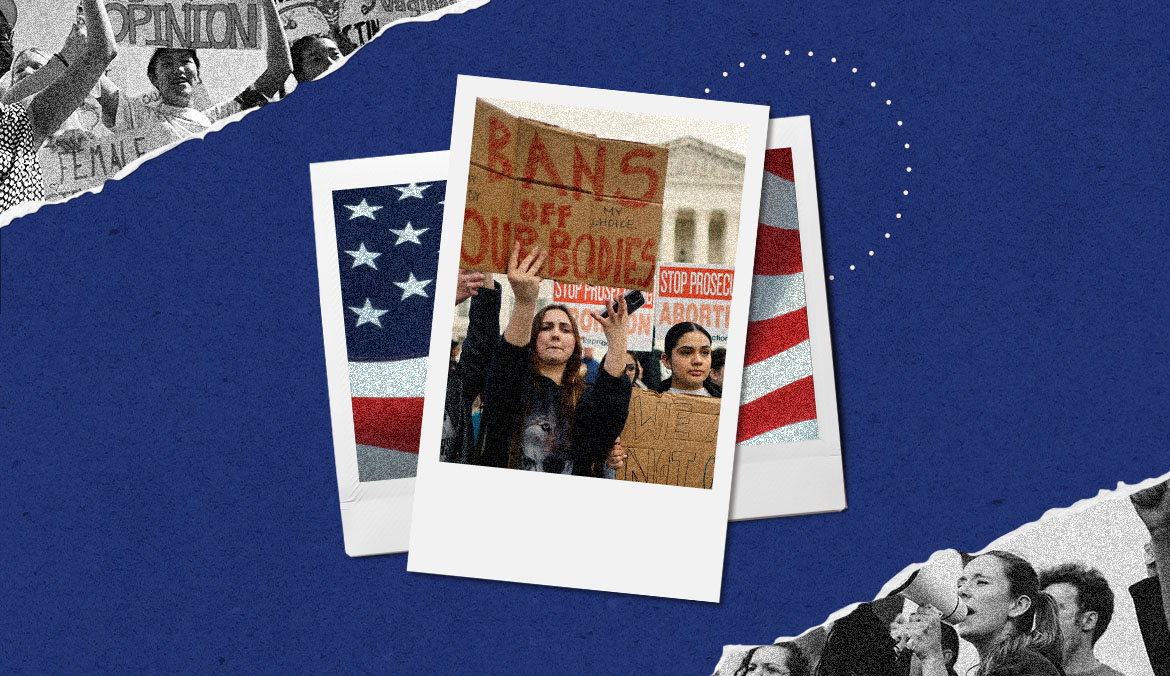 [ad_1]

I
n recent years, reproductive rights activists were sounding the alarm that our federal right to abortion was in jeopardy. As state legislatures across the country chipped away at abortion access and imposed increasingly strict restrictions on reproductive care, many people saw what was coming. Still, the
fall of Roe v. Wade
in 2022 sent shockwaves through the U.S. and beyond. Here's a refresher on where the state of abortion access stood last year: On June 24, the Supreme Court overturned
Roe v. Wade
, eliminating the constitutional right to an abortion. Following the landmark decision, which gave individual states the power to set their own abortion laws, trigger bans in Republican-led states were enacted, and legislators in states where Democrats were in power scrambled to uphold existing abortion rights or expand on them.
The toll has been enormous—at least 13 states have a total or near-total ban on abortion, while another eleven states have either steep restrictions or are considered "hostile" to people seeking abortion and reproductive care, according to the Center for Reproductive Rights. Bans and restrictions are having a clear impact on the health and safety of people giving birth in those states, as well as the babies born there. For example, one 2020 study found that states that restrict access to abortion by gestational age increased the maternal mortality rate by 38 percent. In addition, data from the Centers for Disease Control and Prevention (CDC) show that babies born in states with severe abortion restrictions are more likely to be born with a low birth weight, which can cause serious health issues, while other CDC data show that those same states also have some of the highest infant mortality rates.
The stats are sobering, but not all hope is lost. As bans went into effect, reproductive rights organizations, health-care providers, doulas, and other advocacy groups doubled their efforts to protect and expand the right to safe and legal abortions.
So, let's take a look back at how we got here, the challenges we're facing, and the state of abortion access in the U.S. in 2023.
The challenges of providing reproductive health care post-Roe
For close to 50 years, women in the United States were legally able to access abortion. But in June 2022, the Supreme Court ruled in favor of Dobbs in Dobbs v. Jackson Women's Health Organization and upheld Mississippi's ban on abortion at 15 weeks of pregnancy. This overturned Roe v. Wade and ended the federal constitutional right to an abortion in the U.S.
In the states that currently ban abortions, most allow for exceptions if there is a life-threatening situation where an abortion is needed to protect the life or health of the person giving birth, and a few also permit exceptions for rape and incest. However, in practice, these exceptions are not being granted. According to a recent New York Times article, in the time since Mississippi's abortion ban went into effect in June of last year (which has exceptions for rape and protecting the life of the patient), only two exceptions have been granted. And in states, such as Texas, Alabama, Kentucky, and Missouri, that only grant exceptions for protecting the life of the patient, similar low numbers for exceptions have been reported.
One problem is there's no clear-cut legal definition of which conditions qualify or how severe they have to be for a doctor to perform an abortion. This has led to hospitals having attorneys on standby to help determine if the conditions are severe enough for a doctor to perform an abortion free of liability. Elisabeth Smith, director of state policy and advocacy at the Center for Reproductive Rights, says that providers there could face up to 99 years in prison for providing an abortion.
"This state-by-state patchwork of laws has caused chaos and devastation across the country," she said. "We also know that states could also try to target abortion providers simply for doing their jobs in states where abortion is legal. To combat this, several states like New York have passed interstate shield bills to protect providers and patients against investigations and extradition. We expect more states to follow suit."
And these legally gray areas apply to medication abortions as well. In 2020, medication abortions accounted for 54 percent of all abortions, according to a report issued by the Guttmacher Institute. To access abortion pills for a medication abortion, a prescription is required, and for pregnant people who live in states where abortion is legal, they can speak with a care provider and receive the pills in person, via mail (and soon may be able to get them at their local pharmacy). But for people in states with abortion bans, they will have to rely on the states where abortion is legal, and this oftentimes requires traveling across state lines. (It's also important to note there is a lawsuit occurring in Texas where a federal judge could make a decision that would block access to mifepristone nationwide, at least temporarily).
The good news? Smith says anyone has the legal "right to travel" to receive an abortion or get abortion pills in states where it's legal.
What the 2022 midterms showed us about how most Americans feel about abortion access
Last fall's midterm was the first election to put abortion rights to the test since the Supreme Court overturned Roe v. Wade, and the topic was at the forefront of many voters' minds. An AP survey found that 24 percent of midterms voters cited abortion as their top issue, with 70 percent of those voting for the Democratic candidate, and 27 percent for the Republican.
Five states—Kentucky, Michigan, California, Vermont, and Montana—all had abortion measures on the ballot, and all five supported protecting abortion access in some capacity. California, Michigan, and Vermont enshrined abortion rights in their state Constitutions, with Kentucky defeating a measure that would have denied any Constitutional protection for abortion. Montana rejected a ballot measure that would have required medical interventions to save those it described as "born-alive" infants. The Montana Supreme Court later ruled that its Constitution protects the right to an abortion.
Kansas, a historically red state, voted in August to reject a ballot measure that would have amended the state Constitution to say it contains no right to an abortion. The state now allows abortion up to 22 weeks. State supreme courts in South Carolina, North Dakota, and Idaho are all expected to issue key rulings in 2023 to help determine whether their state Constitutions protect a right to abortion.
The message is clear: Constituents—even in conservative-leaning states—are not in favor of outright banning abortion in their states.
How providers are continuing to work around abortion bans in 2023
The United States has lagged behind its peers in maternal mortality for decades, and health-care providers warn that abortion bans and stricter laws will only make the situation worse. Roughly 700 women die every year of pregnancy-related complications in the U.S., according to the CDC, with three in five of those deaths being preventable. Black women die of pregnancy-related causes at nearly three times the rate of white women. And as mentioned,  studies are showing that states that restrict abortion access have higher rates of maternal mortality than those that don't.
For all of these reasons and more, reproductive care and rights organizations are working on multiple fronts to help people access abortions—with their efforts focused on a few major points right now.
Keep existing abortion clinics open
Independent abortion clinics collectively provide the majority of abortion care in the United States, and Nikki Madsen, the executive director of  Abortion Care Network, a national association for independent community-based abortion care providers, is leading one of the many organizations working to provide care for women seeking an abortion.
She says they are currently facing battles on multiple fronts, as today there are 35 percent fewer brick-and-mortar indie clinics than there were a decade ago, and 14 states are without a single abortion clinic. The work they do provides resources for abortion clinics in communities that serve people on their personal timeline that works best for them and without unnecessary hurdles.
"In a radically shifted landscape, keeping independent abortion clinics open is imperative to rebuilding, restoring, and expanding abortion care in the United States," she said.
A few things individuals can do to support their local abortion clinics, include donating to abortion funds, which help support people in need of abortions, donating to your local abortion clinics, and supporting reproductive rights protests in your area.
Help people access abortion care out-of-state
In states where abortion is unavailable, Planned Parenthood affiliates are working to help patients access abortion care out of state. Danika Severino Wynn, CNM and vice president of abortion access at Planned Parenthood Federation of America, says the organizations' patient navigators collaborate closely with partners in the community, including local abortion funds, and can help make the complexities of traveling out of state easier for patients.
They're even getting a bit creative with it. The Planned Parenthood of the St. Louis Region and Southwest Missouri recently announced a mobile abortion clinic, which is expected to provide medication abortion later this year and surgical abortion in 2023, serving the border regions of southern Illinois to meet both Illinois and out-of-state patients closer to where they are.
If you are in need of assistance in accessing an abortion, you can reach out to Planned Parenthood, the National Network of Abortion Funds, the National Abortion Federation, or INeedAnA.com.   These organizations can provide resources, financial assistance, and information about what your options are, and what to be aware of when it comes to traveling to a different state for an abortion, including any restrictions that are in place, how long you might have to stay, confusing—and, in some cases, medically inaccurate—information that may be presented to you, and other considerations.
Expand access to telehealth and medication abortions
As abortion access has become more and more restricted, organizations and companies that provide telehealth and abortion pills sent via mail have risen in popularity.
As Well+Good previously reported, medication abortions are approved for people at up to 10 weeks of gestation and are safe and effective. Typically, you would have a telehealth call with a medical provider, who would then have the two-pill regimen (mifepristone to end the pregnancy, and then misoprostol to empty the uterus) mailed to your home. Companies that provide this service include Hey Jane, Aid Access, Abortion On Demand, Choix, and Carafem.
Additionally, Planned Parenthood provides medication abortion through telehealth in 21 states across the country and is working to expand this type of care to all states where it's legally possible to do so, as soon as possible.
Through all of these challenges, abortion advocacy groups and providers have continued to work tirelessly for access to safe, legal abortion—and there is hope for the future, says Severino Wynn. "An unprecedented crisis fosters unprecedented collaboration."
[ad_2]

Source link