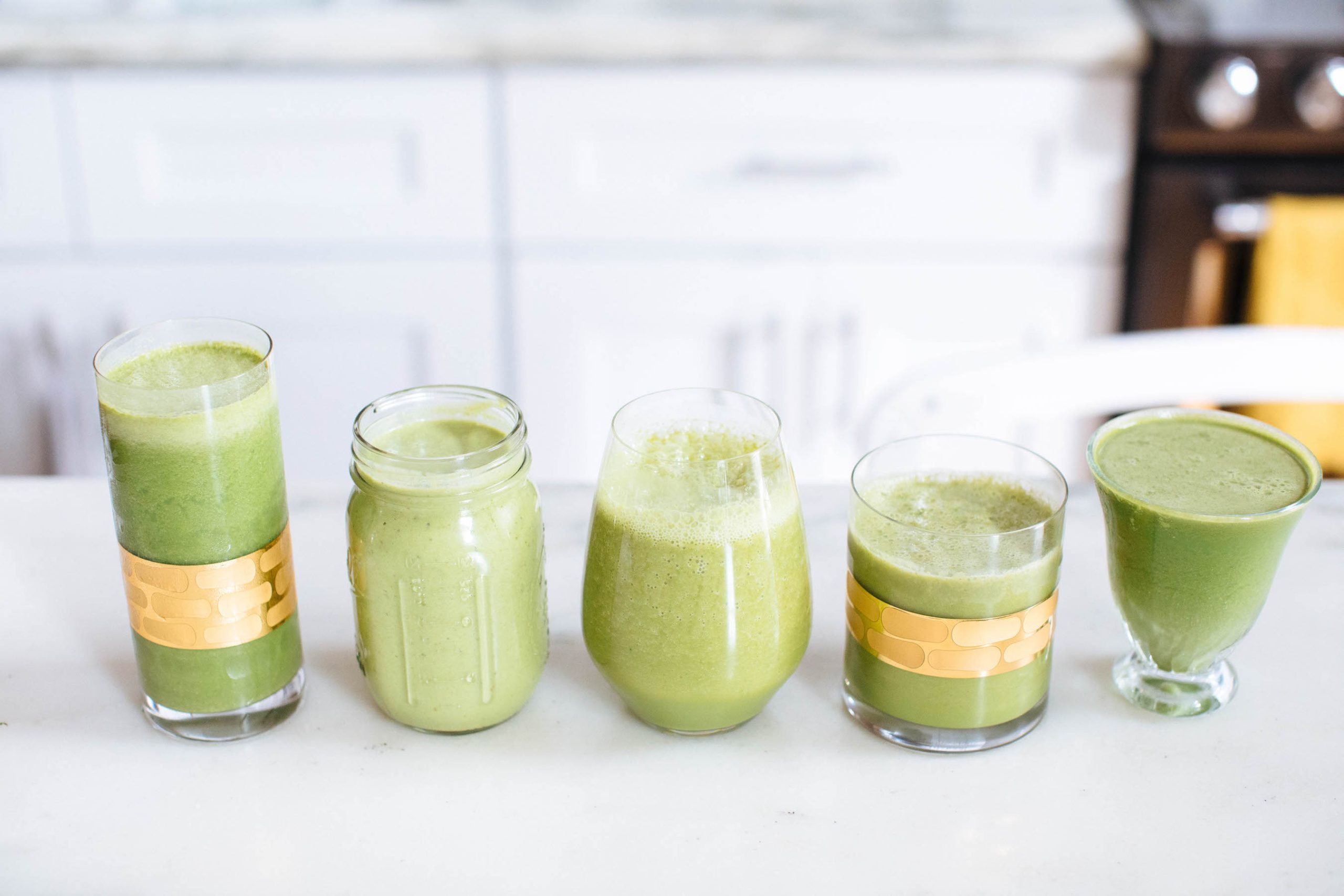 15 Healthy Smoothie Recipes You Want To Drink Every Day
Smoothies are quickly becoming one of the most popular health foods in the world – and for good reason! Not only are they delectable, but they are also packed with essential vitamins and minerals. From Tangy Orange to Peanut Butter Banana, there is a smoothie for everyone's palate. Here is a list of 15 healthy smoothie recipes you will want to drink every day.
1. Green Apple: Start your morning off with a burst of flavour and nutrition with a Green Apple Smoothie. Blend together an apple, a banana, a handful of spinach, some Greek yoghurt, and a tablespoon of honey to taste.
2. Tropical Island: Get away to a tropical island without ever leaving your kitchen. Mix frozen banana chunks, mangoes, strawberries, a handful of spinach, and a cup of coconut water in a smoothie maker for a fruity and refreshing morning treat.
3. Tangy Orange: This smoothie is like indulging in a sweet tart. Puree one orange, a banana, a few leaves of spinach, one scoop of plain yoghurt, and a splash of orange juice for the perfect start to your day.
4. Kale Energy: The combination of kale and almond milk make this a great pick-me-up morning smoothie. Blend together the juice of one lemon, a handful of kale leaves, a banana, a cup of almond milk, and a scoop of chia seeds for a power packed breakfast.
5. Banana Almond: You don't have to sacrifice taste for health with this delicious smoothie. Puree almond milk, oats, banana, dates, a teaspoon of almond butter, and a pinch of cinnamon for a scrumptious way to kick off your day.
6. Strawberry Banana: This is a classic smoothie combination with a delicious twist. Throw in a banana, a handful of frozen strawberries, some Greek yogurt, a splash of orange juice, and a teaspoon of honey for sweetness.
7. Peanut Butter Banana: This smoothie will transport you to creamy smoothie heaven. Simply blend up a banana, a tablespoon of peanut butter, Greek yoghurt, and almond milk for a nutritious and creamy treat.
8. Blueberry Vanilla: Start your day off with a burst of blueberry bliss in this dreamy morning smoothie. Blend together almond milk, frozen blueberries, a banana, a teaspoon of vanilla extract, and a handful of spinach for a flavourful and nutritious pick-me-up.
9. Watermelon: If you're looking for a way to cool off on a hot morning, this is the smoothie for you. Simply blend together freshly cut watermelon, a banana, frozen strawberries, and a cup of coconut water for a sweet and refreshing treat.
10. Mango: This sweet and tangy smoothie will tantalise your taste buds and give you a much needed energy boost. Simply blend a mango, a banana, a cup of almond milk, and a tablespoon of honey for a tropical treat.
11. Apple Pie: Enjoy the taste of apple pie, minus the calories and extra sugar, with this yummy smoothie. Puree a green apple, Greek yoghurt, almond milk, a handful of walnuts, a teaspoon of honey, and a sprinkle of nutmeg together for a delicious and healthy morning smoothie.
12. Avocado: This is the perfect way to get your daily intake of healthy fats in the morning. Mix together a ripe avocado, almond milk, a banana, a tablespoon of honey, and a teaspoon of cinnamon for an indulgent, yet nutritious breakfast smoothie.
13. Acai Berry: This smoothie is an antioxidant powerhouse. Blend together an Acai berry packet, almond milk, a banana, and a cup of frozen berries for an energising and delicious morning treat.
14. Mango Banana: For a truly tropical morning experience, try this tasty smoothie. Blend together mango, banana, yogurt, milk, frozen strawberries, and a tablespoon of honey for a sweet and creamy wake-up call.
15. Almond Butter: Get your daily dose of protein and fibre with this tasty smoothie. Mix together almond milk, a banana, almond butter, Greek yoghurt, a tablespoon of honey, and a sprinkling of your favourite nuts for a nutty and delicious healthy breakfast.
Not only are these 15 smoothie recipes delicious, but they are also incredibly healthy. The best part is they are so easy to make, so you can whip up a smoothie any morning you're in a rush and don't have time to cook. So why wait? Get blending and start enjoying smoothies every day!

Short on time? On the lookout for a way to pack additional vitamins into your working day? These healthy smoothie recipes are the fantastic alternative!
What Goes Into Balanced Smoothie Recipes?
Smoothies are these a fantastic way to get a nutrient-dense meal! They're packed with vitamins, minerals, fiber, and antioxidants. But regretably, not all smoothies are designed equal.
It can be seriously simple for the sugar content material to climb up to 50 grams in just one particular smoothie. That sugar can come from total meals like fruits or even added sugars. As a final result, a blood sugar spike is triggered, which will go away most of us sensation considerably less than our ideal overall. No matter if it results in a crash in electricity or can make you truly feel hungry not long soon after consuming it.
Healthful smoothie recipes have protein, starchy carbohydrates, non-starchy carbohydrates (like greens), and nourishing fat. To do this, you use what I connect with the Foundational 5.
A Foundational 5 Nourish Meal is any meal that is made up of all 5 factors in the Foundational Five components. This consists of non-starchy carbs, starchy and sugary carbs, excess fat, protein, and the Taste Issue. If you're not familiar with my Foundational Five technique nonetheless, you can down load my cost-free guide the place I share additional about it!
By subsequent this uncomplicated template it retains meals flexible, exciting, and nourishing. Our Foundational Five Nourish Meals can be located as smoothies or smoothie bowls, yogurts, oatmeal bowls or breakfast bowls, nourish bowls, salads, soups, stews, and lots of additional.
All of the wholesome smoothie recipes underneath include these elements to make certain each individual one is packed with the nutrition you require to feel your ideal!
The Nutrition Stripped Community's Favorite Healthy Smoothie Recipes
These recipes are the favorites from the Diet Stripped community! You can make them as smoothies or bowls. If you make them as a bowl, be absolutely sure to test my Smoothie Bowl Sprinkle for a crunch topper!
If you are a admirer of beets, you will appreciate this diverse way of together with them in your weekly meal strategy. Beets are terrific to incorporate into our diets for anti-inflammatory and detoxification positive aspects. They have also been revealed to decreased high blood tension and make improvements to each digestive wellbeing and athletic general performance.
I really don't know why this common blend of bananas and strawberries is so fantastic, but these two flavors pair so well with each other.
What tends to make this individual smoothie extra nutritious is all of the antioxidants! It is packed with phytonutrients like anthocyanins, tannins, flavonols, resveratrol, ellagic acid, and catechins from the strawberries by yourself.
Warming spices include something from fresh ginger and floor cinnamon, to black pepper, cayenne, garlic, and horseradish. You can very easily insert these spices to any of your savory or sweet dishes these kinds of as soup, dips, stir-fry, frittata, or a smoothie like this one particular. The excellent detail about this smoothie recipe is that it is also rich in fiber from the pumpkin! 
This smoothie has all whole-meals substances that assistance your digestive wellness! From kefir (which is a fermented probiotic beverage) and yogurt, to ground flax seeds, beans, and berries. You can thank these components for this smoothie's incredible fiber and antioxidant material!
If you're not a enthusiast of super sweet smoothies, this one's for you. The addition of ginger in this wholesome smoothie recipe balances out the sweetness of the strawberries. It's also a good way to give your normal strawberry smoothie a little transform!
Spinach is loaded with iron, calcium, vitamin K, vitamin A, vitamin C, and fiber. It's a fantastic food merchandise to be feeding on everyday!
I'm sharing not only just one of my beloved spinach smoothie recipes, but I'm also offering you a template for mixing and matching all of the elements. That way you can have slight versions of this smoothie all summer season very long!
The Stripped Environmentally friendly Smoothie is simply just a high-high-quality, nutrient-dense, effortlessly-digestible inexperienced smoothie. It's merely produced of natural and organic raw greens, greens, and fruits. You can get extremely resourceful with using regardless of what greens and fruits you have in time!
This Blueberry Banana Crunch Smoothie Bowl is packed with antioxidants! You have the blueberries and crunchy home made granola to thank for that. You do not see it and you will not style it, but this healthy smoothie recipe is packed with greens, way too!
Environmentally friendly tea, in particular matcha, offers a clean, delicate electricity improve. It does contain caffeine, but not as much as coffee, making it a terrific alternate for persons who are sensitive to caffeine. Just as you can get pleasure from matcha in a frothy early morning latte, it can also be employed in your morning smoothie.
This combines the most effective of both of those worlds for a quick and nourishing breakfast to choose with you out the doorway!
This is my go-to smoothie in the spring when I want a little something filling, but also "light" on my digestion. It also helps to maintain my energy degrees up when I'm out and about, composing or capturing content.
The squeeze of lemon juice and added ginger are wonderful for digestion. As well as, all those people balanced fats from the avocado will keep you feeling entire, retain your hormones well balanced, and hold your skin glowing.
This smoothie is loaded with natural vitamins, minerals, phytonutrients, and anti-oxidants. More specially, those people I goal for fantastic skin, hair, and nail health and fitness in my day by day regime. Not only are you nourishing your skin on a cellular level with this smoothie, but it is also uncomplicated to make and preferences wonderful!
This smoothie will make you experience like you are at a tropical resort! Coconut is the star of this recipe, giving the smoothie a lot of healthy fat, fiber, and taste.
This smoothie tastes so fantastic that it could be a dessert! The healthy fat, fiber, and anti-oxidants make it a nourishing option for any time of the working day.
This basic blend of flavors is tremendous fulfilling and beyond easy to whip together!
Odds are, you have all of these pantry staples on hand by now, so you are absolutely free to take pleasure in this straightforward peanut butter banana smoothie anytime the temper strikes.
This is a person of my beloved tasting smoothies! It is sweet from bananas, tangy from the raspberries, and the texture is thick and sleek! Not to point out, this smoothie is very child-friendly! Everyone opposed to incorporating "greens" to their beverages will appreciate it. You can't even flavor it right here!
Which Nutritious Smoothie Recipe Will You Attempt Following?
The enjoyable element about balanced having is finding new foodstuff and recipes you really like that make it easy and fulfilling for you to consume nutrient-dense meals. So, which 1 of these healthy smoothie recipes are you likely to consider following? Choose one particular to make this 7 days and see if you find a new favourite!
Do You Want to Working experience A lot more Harmony with your Food stuff Alternatives?

Then obtain your balanced ingesting kind!
Take this 45-2nd free quiz to discover out which balanced having archetype you are, and what your exceptional form wants to retain equilibrium with the way you nourish on your own. That way, you can finally be free of charge from foods and eating plan obsession, sustain a well balanced body weight, and cultivate a optimistic romantic relationship with food and your system.