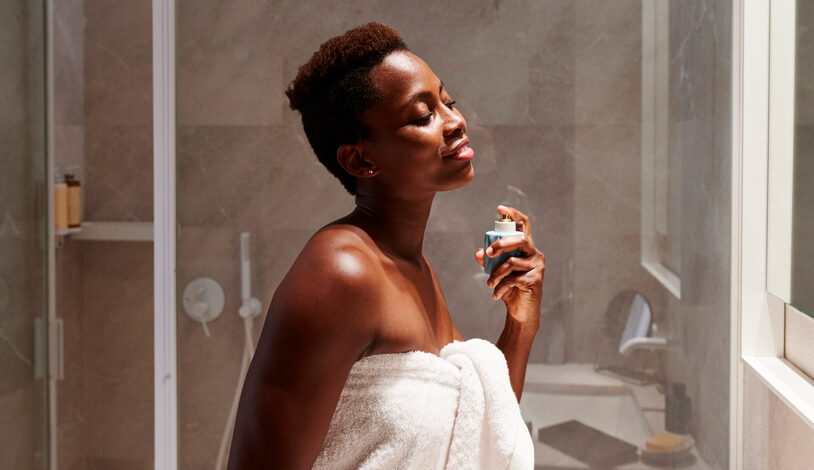 Scent has a remarkable ability to lift people's spirits. A pleasant smell can quickly distract a person from their worries and bring them into a better mood. With this in mind, we've assembled a list of 11 mood-boosting perfumes that can help elevate your spirits.
Memo Paris Well being boasts a combination of limes, water lily, and sandalwood. Its uplifting citrus aroma is sure to help you feel energized and relaxed at the same time.
Chanel Chance Sport radiates with hints of jasmine, vibrant pink pepper, and invigorating citrus. One whiff is sure to instantly awaken your senses and get your heart beating.
Burberry Brit Rhythm is a light and airy scent that's sure to brighten the days of those who smell it. With its blend of honey and lavender, this fragrance can help one find inner calm and confidence.
Victoria Secret Bombshell perfume contains top notes of grapefruit and black currant, which can help provide energy and optimism. This perfume also contains hints of purple passionfruit, hibiscus and vanilla orchid that create a sweet, yet energetic scent to help improve your spirit.
La Maison Lancome La Nuit Tresor is a romantic, captivating scent composed of pink peppercorn, wild raspberry, and black rose. Just one whiff of this fragrance is sure to bring one into a state of pure bliss.
Yves Saint Laurent Black Opium evokes a sense of mystery, yet provides a feeling of comfort all the same. With its cinnamon, coffee, and white floral scent, this captivating perfume will draw your senses in and transport you to an otherwise undiscovered realm.
Clinique Happy In Bloom exudes happiness, thanks to its mix of wildflowers and fresh citrus notes. Sniff a touch and let your hidden worries melt away.
Calvin Klein Eternity makes one feel youthful and joyous with just a single touch of its scent. Hints of amber, apple cypress, and freesia can help erase stress and anxiety and take one's mind to a calmer space.
Hermes Eau Des Merveilles Enchantee floral and woody aromatic perfume is sure to make one's heart sing. Its mix of mandarin orange, patchouli and ginger notes can truly captivate the heart and soul.
Maison Martin Margiela Replica Jazz Club is an enigmatic aroma composed of lavender, nutmeg, and vanilla. Its richness in scent can provide feelings of warmth in heart and soul.
Finally, Bvlgari Rose Goldea captivates with its sweet, invigorating scent. With notes of rose, jasmine, and white musk, this exquisite aroma is sure to bring on a tranquil euphoria.
It can be difficult for someone to find joy in everyday life, but these 11 mood-boosting perfumes can help bring pleasure and inner peace into your life. With their unique combination of scents, these fragrances are sure to make you look and feel as bright as ever. [ad_1]

With the Well+Good SHOP, our editors put their years of know-how to work in order to pick products (from skin care to self care and beyond) they're betting you'll love. While our editors independently select these products, making a purchase through our links may earn Well+Good a commission. Happy shopping!
Explore the SHOP
A simple waft of a soothing scent can stir something deep inside the human soul and evoke an intoxicating blur of nostalgia, emotion, and comfort. Any fragrance enthusiast knows the power of a great scent, the romance of the olfactory experience. It's far more than smelling good for others; it's an act of self-care. And yet fragrance's effect on mood is actually pretty unromantic—it's downright scientific fact.
"By far, smell is our strongest sense and affects mood and behavior more than any other human sensorial experience," explains Brianna Arps, founder of luxury fragrance brand, MOODEAUX. "Scientists say this is because the olfactory bulb is connected to the limbic system, which includes parts of the brain that control emotion and memory."
On a more granular level, the relationship between smell and emotion is embedded within our olfactory memory and limbic systems, explains holistic healer Maura Farragher. Scents take a direct route to parts of the brain responsible for emotions and memory, creating a link between our mental well-being and what we smell.
According to Alexandra Monet, a perfumer at world-renowned fragrance and taste company, Firmenich, the scent-emotion link is so deep that it can contribute to controlling mood and behavior as well as sparking memories (both consciously and subconsciously). For example, fragrances that cue nostalgia tend to be especially coveted in times of uncertainty, Monet explains, as nostalgia enhances our well-being and, in a way, reconnects us with parts of ourselves and those we love.
How does fragrance have an effect on mood?
A good fragrance is more than just pleasing to the nose. It's composed of notes that directly target our emotions. Some scents, like lavender, evoke a sense of peace and calmness, whereas others, like wild orange, are known to boost mood.
In recent years, a growing number of fragrance brands have turned to "functional fragrances," an attempt to connect emotionally and enhance wearers' moods by manipulating the powerful olfactory-emotional connection. This logic is nothing new.
"Fragrance is medicine," shares Janine Mahon, MD, doctor of Chinese medicine. "Fragrance contains the essence of the plant and can activate the mind and body in powerful ways. When using a plant's essential oil you access elements inaccessible through other plant preparations."
Do scent preferences (and the effects scents have on mood) change from season to season?
In the same way that we don't wear the same clothes in the summer season versus the winter, scent preferences and that olfactory-emotion connection change based on weather and temperature.
"In summer we need less. We generally want lighter, fresher scents because we are out and about, wearing less clothing, eating less food," shares Rosie Jane Johnston, founder of By/Rosie Jane. "During the winter we stay inside more, we're eating calorie-rich foods, and nesting, so cozy, heavier scents fit in better."
We turned to scent as a means of refuge and escape at the height of the pandemic; we arguably do the same every winter, gravitating toward scents that are warm and comforting, more sensual. It's a phenomenon that's increasingly defining our use of fragrance in everyday life.
"I really foresee fragrance consumption evolving into a more direct medium for self-care through self-expression," Arps shares. "Rather than wearing our favorite scents just to feel something, those who indulge—especially Millennials and Gen Zs—will reach for fragrance to 'accessorize' their feelings instead."
11 Best Mood-Boosting Perfumes That Uplift and Inspire Connection
PHLUR Somebody Wood — $96.00
"We see an important role of woodsy [scents] in feelings of calm and relaxation for both American men and women," shares Monet. In particular, the combination of comforting woods and creamy musk scents is highly associated with relaxation—and PHLUR's Somebody Wood is just that. The unisex fragrance features key notes of sandalwood, amber, and musk for an undeniably cozy, warm, slightly sexy scent.
HENRY ROSE Windows Down — $120.00
Research shows that citrus aromas reduce oxidative stress and inflammatory responses, which can lead to a boost in mood—especially during those colder winter months when many experience the "winter blues." With a careful blend of neroli, grapefruit, bergamot, moss, orange flower, and Earl Grey tea, Windows Down from HENRY ROSE instantaneously uplifts spirits with a fresh, zesty shot of energy. The fragrance has notes of citrus throughout but features a light, floral finish that makes it perfect for everyday use.
Dedcool Fragrance 01 "Taunt" — $90.00
Taunt, with its notes of bergamot, vanilla, and amber, is categorically sexy. While the vanilla and amber evoke a warm, flirtatious aura, bergamot adds a mood-brightening sense of energy. The result is a sweet, yet balanced, scent that's equal parts soft and romantic.
Le Labo Bergamote 22 Eau de Parfum — $220.00
Echoing the sentiments we found in our research, Farragher points toward citrus scents for its boosting mood, energizing, and uplifting benefits. And Le Labo's Bergamote 22 utilizes those cheer-y benefits to its full advantage. The eau de parfum combines citrus notes like bergamot, grapefruit, and orange blossom, with deeper, sweeter scents like cedarwood, amber, and musk, as well as a hint of the delicate floral petitgrain, for a fresh, sensual scent that's both spicy and clean at once.
By/Rosie Jane Dulce Eau de Parfum — $70.00
"Vanilla is an amazing mood booster. It's cozy, safe, promotes happiness, and reduces stress and anxiety," Johnston explains. And her newest eau de parfum, Dulce, is just that. The sweet, comforting scent is like being wrapped in a warm, cozy sweater, thanks to a blend of two kinds of vanilla, chocolate, and Hinoki wood. It's gourmand and sweet without feeling artificial or overwhelming.
Ellis Brooklyn Après Eau de Parfum — $108.00
"In winter, we may find ourselves gravitating towards scents that ground us," Dr. Mahone explains. "Ones that remind us of our connection to the earth, like cedarwood, juniper, and nutmeg." Indeed, those rich, earthy woods promote a sense of serenity, balance, and a connection with the natural world (which can be especially helpful during those brutal winter months). Après perfectly strikes that balance, thanks to a keen blend of juniper berries and cedarwood, which ground the scent in a crisp whiff of evergreens, and a touch of bourbon, vanilla, and praline, which adds the slightest hint of rich spices and sweetness. The result is an addictive and compelling fragrance that's cozy and ever-so-slightly sexy.
MOODEAUX Worthy Eau de Parfum — $98.00
When designing MOODEAUX's debut fragrance, Arps wanted it to smell like "a hug in a bottle. A mix of citrus-floral-woodsy accords grounded in sheer warmth. The kind that wraps your senses in a cozy embrace—whenever you need one most, especially during the winter." To do this, Worthy cleverly combines different scent styles in a way that instills confidence in the wearer. And, because the fragrance adapts with the body's natural pheromones, it smells slightly different on everyone, making it a truly unique experience.
Bond No.9 New York Tribeca Perfume — $320.00
Tribeca is a slightly floral, sweet perfume that smells deeply luxurious and powder-y. Notes of cacao absolute, green hazelnut, cedarwood ambroxan, moss, caramel, and jasmine sambac absolute evoke the edgy, cool-girl vibes of Tribeca perfectly. That last note is of particular importance: Dr. Mahone notes that jasmine speaks to our emotions, giving wearers a boost of confidence and sense of allure.
EAU SO Sintra — $185.00
Sintra is a perfectly balanced spicy floral scent that's somehow simultaneously crisp, fresh, warm, and deeply rich. Top notes of bergamot oil, Italian lemon, and aquaflora play with euphoric base notes like orris, vetiver, sandalwood and musk. The result blends the uplifting qualities of citruses with the grounding nature of those muskier, earthy notes for a surprisingly human aromatic delight.
Snif Sweet Ash — $65.00
There's something undeniable alluring about an earthy, sweet blend—the resulting warmness is intoxicating and sexy. Sweet Ash nails this combination on the head with notes of juniper, bergamot, fir balsam, white moss, patchouli, tonka, and vanilla bean. The fragrance is wildly inviting and warm, perfect for when that winter dread starts to set in.
BYREDO Mojave Ghost — $200.00
Mojave Ghost is a woody, aromatic scent with a touch of fresh and floral notes that are subtle yet distinct. The scent is, in a word, complex. There's the nostalgic notes of chantilly musk and cedarwood, sweet florals like ambrette, violet, and magnolia, the slight citrus of amber, and the almost pear-like Jamaican nesberry. It's a fragrance that makes wearers feel as sexy as they smell (which is, to be clear, very sexy).
Our editors independently select these products. Making a purchase through our links may earn Well+Good a commission.


[ad_2]

Source link